Hawk Talk Monthly — October | Hawkeye Fan Shop — A Black & Gold Store | 24 Hawkeyes to Watch 2019-20 | Hawkeyes in the NFL | Game Recap
By DARREN MILLER
hawkeyesports.com
IOWA CITY, Iowa — One of Brandon Smith's favorite things to do in practice are one-on-one drills against defensive backs. Makes sense when you're 6-foot, 2-inches and weigh 218 pounds.
 
"It's about who wants the ball more," said Smith, a University of Iowa junior wide receiver from Lake Cormorant, Mississippi. "Who wants to make the play more?"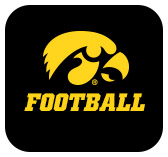 Smith turned in the highlight reel play of the game Saturday on quarterback Nate Stanley's 43rd and final pass attempt. On first-and-10 from Penn State's 33-yard line, Smith ran an up route with Penn State's John Reid defending.  The ball was a bit inside, so Smith jumped at the 6 and got both hands on the ball near Reid's left shoulder. Smith secured the ball and rolled over Reid's back and into the end zone for a touchdown.
 
It was the seventh reception of the game for Smith, who finished with a game-high 86 receiving yards.
 
"When the ball is in the air, I want to be the guy that comes down with it," Smith said. "I will do everything I can to go get it."
 
He did his part on this play, flipping in the end zone for Iowa's first touchdown in eight quarters.
 
"I knew it was critical for us to get into the end zone," Smith said. "I was glad I was able to get a touchdown and give us a chance to win the game."
 
Despite the Stanley-to-Smith touchdown, No. 10 Penn State improved to 6-0 overall, 3-0 in the Big Ten with a 17-12 win over No. 17 Iowa (4-2, 1-2). The Hawkeyes' 286 passing yards are a season high and it comes against a defense that ranks second in the Big Ten in scoring defense (8.2 points per game) and third in total defense (259.7 yards per game).
 
Smith set career-highs in receptions and receiving yards in a game.
 
"We have to make some tough plays," Iowa head coach Kirk Ferentz said. "Brandon made a beautiful play at the end. Things like that are going to help the cause a little bit, too. A group effort."
 
Depth at receiver continued to show Saturday with Smith and freshman Nico Ragaini hauling in seven passes apiece, and junior Ihmir Smith-Marsette with five. After six games, all three share the team lead with 24 receptions. Smith has a team-high four receiving touchdowns.
 
"When our number is called, make the play and take advantage of matchups," Smith said.
 
Iowa remains home Oct. 19 for Homecoming against Purdue (2-4, 1-2). Kickoff is set for 11 a.m. (CT). The Boilermakers are 13th (out of 14) in the Big Ten in passing defense, allowing 278 yards a game. That could mean more Stanley-to-Smith highlights.
 
"Our mindset is to get the first down, the next first down, the next first down, and sooner or later a touchdown will come," Smith said.
 
Iowa football hosts Minnesota in the battle for Floyd of Rosedale on Saturday, Nov. 16.  Fans are encouraged to wear black for the Blackout game, and it is the annual military appreciation celebration. Active duty military and veterans are eligible for a military ticket discount. Click HERE for tickets and pre-paid parking and additional game information.