Hawkeye Fan Shop — A Black & Gold Store | Hawk Talk Monthly — October | 24 Hawkeyes to Watch 2019-20 | Fight For Iowa
By RICK BROWN
hawkeyesports.com
 
IOWA CITY, Iowa — Ryan Kriener has lived his dream inside a University of Iowa basketball uniform the last three seasons, a 90-game journey with plenty of ups and downs.
 
Ask the 6-foot-10 senior forward from Spirit Lake, Iowa, how he would describe his college career, and Kriener paused to reflect.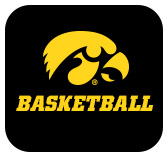 "My whole time I've always been about team, about winning, effort, and passion," he said. "Because this has been my dream school, and I wanted to do everything it takes to win here. It has been a passionate career."
 
Kriener grew up a Hawkeye fan and when head coach Fran McCaffery offered a scholarship, Ryan's wish had been granted.
 
It's not hard to see Kriener's passion for Iowa hoops on the hardwood, either.
 
"I wear my emotions on my sleeve sometimes," he said. "I go all out."
 
Kriener is coming off his best season as a Hawkeye. He played in all 35 games, starting twice, while averaging 5.6 points and 3.0 rebounds.
 
"Last year he was terrific," McCaffery said.
 
Kriener's 13.8 minutes a game were a career high. His 76 field goals nearly surpassed the 81 he made over his first two seasons. His 37 free throws were 20 more than he made his first two seasons.
 
"I feel like I'm in a pretty good spot," Kriener said. "I can do more and more things, whether it's guard a 4 (power forward), a 3 (small forward/third guard), switch out, knock down the open jumpers I'm getting. I can take the ball inside and be an efficient scorer and rebounder."
 
No one would ever question Kriener's loyalty. He got feelers from other schools after his first two seasons at Iowa, seeing if he would be interested in transferring. Some schools contacted his dad, Rich. Others went through AAU connections.
 
"I was frustrated," Kriener said about the early stages of his career. "There were opportunities to go places, but I go back to the fact that you can't leave your dream school. I signed to play for the Hawkeyes, being an in-state kid, to play for Fran, and play in his system."
 
That outweighed the temptation to leave.
 
"It's tempting when a school says, 'Well, things aren't really working out for you right now, and maybe it's not as good a time as you want it to be, but you can come here, have the keys to the offense, and do whatever you want.'  That is kind of the price you pay when you want to come and play on the biggest stage in college basketball. For me, it's worth it."
 
His heart outweighed greener pastures.
 
"I have been playing with Jordan (Bohannon), Cordell (Pemsl), and Riley (Till) for a long time (starting in AAU)," Kriener said. "I love those guys, and I love this place. I could never leave."
McCaffery considered redshirting Kriener in 2016-17, but ended up playing him 28 games. Kriener scored 14 points in games at Northwestern and at home against Ohio State, but his most significant contribution might have come in an 83-78 upset of No. 17 Purdue. Kriener had six points and two rebounds in eight second-half minutes that helped turn the momentum.
 
His sophomore season was slowed by a pair of concussions that sidelined for six games. He finished that year strong, scoring a team-high 14 points in Iowa's second-round overtime loss to eventual champion Michigan in the Big Ten Tournament.
 
"That was a motivating thing going into my junior year," Kriener said.
 
After being part of a 23-win team that made it to the NCAA Tournament a season ago, Kriener would like to end his Iowa career in the Big Dance.
 
"Just because we have a lot of new faces doesn't mean we can't accomplish the same goals," Kriener said.
 
Kriener and 6-11 Luka Garza return to give Iowa a presence on the front line. And 6-11 Jack Nunge is back after a redshirt season. All three are offensive threats from the paint to the 3-point line.
 
"We have the ability to have five shooters on the floor at all times," Kriener said.
 
Over the summer, Kriener got valuable experience playing for the USA East Coast team that competed in Athens, Greece.
 
In addition to his experience, Kriener is expected to bring senior leadership to a team with a lot of new faces.
 
"If you know him, and what his makeup is, he is not afraid to speak his mind," McCaffery said. "He is a team guy in every sense of the word."
 
Iowa will hit the court for the first time Nov. 4, hosting Lindsey Wilson College in an exhibition on Mediacom Court at Carver-Hawkeye Arena at 7 p.m. (CT).
Single-game tickets for the 2019-20 season will go on sale Tuesday at 9 a.m. (CT).