Hawkeye Fan Shop — A Black & Gold Store | 24 Hawkeyes to Watch 2019-20 | Hawk Talk Monthly — October | Photo Gallery | Hawkeyes in the NFL | Game recap | Ferentz Transcript (PDF) | Box Score (PDF) | Postgame Notes (PDF)
By DARREN MILLER
hawkeyesports.com
IOWA CITY, Iowa — On a day when the most famous University of Iowa No. 33 was in attendance, the current No. 33 quickly came up with a game-changing play.
 
All-America safety Bob Sanders, who provided big hits and big plays for the Hawkeyes from 2000-03, was on the sideline as honorary captain. Also observing from the sideline was sophomore Riley Moss (No. 33), a 6-foot, 1-inch, 191-pound cornerback from Ankeny, Iowa, who has spent most of the season nursing a hip injury.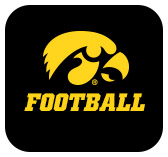 On Purdue's opening drive of the second half, and after freshman wide receiver David Bell had amassed nine catches for 114 yards, University of Iowa defensive coordinator Phil Parker yelled for No. 33 — Moss, not Sanders — to be ready.
 
"The next play he told me to get in there," Moss said. "I was excited and ready to be out there."
 
On third-and-8 from Iowa's 40-yard line, Purdue quarterback Jack Plummer dropped back and looked in Bell's direction. Iowa's secondary was in Cover 2, Moss intercepted the pass at the 21, and returned it seven yards.
 
"I was sitting on the bench because I was only (playing) in nickel, so I had to stay mentally prepared the entire game," Moss said. "You don't know if you are going to go in or not, but I got that chance. It was awesome getting that pick because I got to celebrate with my teammates on the sideline."
 
Iowa led 9-7 at the time and Purdue had moved 35 yards on its first seven plays of the second half. If the Moss interception wasn't the biggest play of the game for Iowa, it was certainly one of them. The Hawkeyes used the momentum from the turnover to assemble a 9-play, 72-yard scoring drive to go up by two possessions, 16-7.
 
No. 22/23 Iowa (5-2 overall, 2-2 Big Ten) went on to snap a two-game losing skid (and two in a row against the Boilermakers) with a 26-20 victory inside a sold-out Kinnick Stadium.
 
"There are a lot of good things today and that was one of the best things I saw," Iowa head coach Kirk Ferentz said of the interception by Moss. "Riley ended up having the hot hand and did a good job."
 
The play was also symbolic of the growth Moss has made since the meeting with Purdue last November in West Lafayette, Indiana. On that afternoon, Purdue fifth-year senior quarterback David Blough picked on Moss — among others — to the tune of 333 yards and four touchdowns. Then a freshman, Moss compiled three tackles with a breakup, but it wasn't a highlight reel kind of day.
 
"You are on an island sometimes and it can be high stakes out there (at cornerback), but you have to brush it off and have thick skin," Moss said. "If you let it get to you, it will probably happen again."
 
Bell finished with 13 catches for 197 yards and a long of 54, but after Moss entered the game, Bell went 23 minutes without a reception.
 
"We gave up a lot of points to these guys last year (38), but that's the value of experience," Ferentz said. "It's a tribute to the way Riley has worked since last year."
 
Moss finished with two tackles, one for loss, and a pass breakup. The breakup was credited when he nearly had a second interception, but possession was gained out-of-bounds.
 
"You have to be ready and act like they are going to throw your way every time, otherwise they will catch you off guard and it could be a touchdown," Moss said. "You have to stick with the game plan and stick with what you're taught and it should work out."
 
The Hawkeyes return to action Oct. 26, traveling to Evanston, Illinois, to face Northwestern.  Game time is 11 a.m. (CT) from Ryan Field.
 
Iowa football hosts Minnesota in the battle for Floyd of Rosedale on Saturday, Nov. 16.  Fans are encouraged to wear black for the Blackout game, and it is the annual military appreciation celebration. Active duty military and veterans are eligible for a military ticket discount. Click HERE for tickets and pre-paid parking and additional game information.