Hawkeye Fan Shop — A Black & Gold Store | 24 Hawkeyes to Watch 2019-20 | Hawk Talk Monthly — October | Photo Gallery | Hawkeyes in the NFL | Game recap | The Difference A Year Makes for No. 33 | Waggoner Lets Preparation Handle the Work
By RICK BROWN
hawkeyesports.com
 
IOWA CITY, Iowa — Keith Duncan wanted to kick for Purdue.
 
He attended several kicking camps there in high school, and figured it would be a good place for him to land.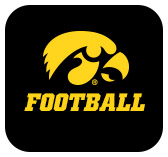 "I'm fortunate that Iowa gave me an opportunity," Duncan said.
 
On Saturday, the junior walk-on placekicker from Weddington, North Carolina, played a major role in the 22nd-ranked Hawkeyes' 26-20 Homecoming victory over Purdue at Kinnick Stadium.
 
Duncan was perfect on all four of his field-goal attempts, and added two point-after kicks.
 
"Every point is big in a conference game, so I thought he was really wired in," Iowa head coach Kirk Ferentz said.
 
Duncan is good friends with Purdue place kicker J.D .Dellinger, who had a pair of field goals himself Saturday.
 
"We talk on a regular basis," Duncan said. "He went to school about 10 minutes from me. We played every year in high school. I hit a game-winner against him in high school. I always jab him about that. He's a great kicker with a strong leg. We had the same kicking coach (Dan Orner) coming up through high school. (Orner) is the one who pushed us to collegiate kicking."
 
Duncan handled most of Iowa's place kicking duties as a true freshman in 2016. He made nine of 11 field goals with a career-long of 41, as well as 38 of 39 PATs.
 
Duncan's most memorable boot came during that 2016 season, when his 33-yarder on the final play of the game knocked off No. 2 Michigan, 14-13.
 
Then Duncan's career took a bump in the road. He redshirted in 2017 then lost the job to Miguel Recinos in 2018. But Duncan stuck it out, got stronger in Chris Doyle's weight room and is making the most of his second opportunity.
 
"Coach Doyle has done a good job just giving me extra strength, putting me in programs that will increase my explosiveness," Duncan said.
 
The ability of Iowa's offense to finish drives remains a work in progress, but Duncan has proved to be a solid safety net.
 
He has made 17 field goals in 19 attempts, which leads the nation. He is now nine of 10 on kicks between 40 and 49 yards, a testimony to his added strength and growing experience. His longest attempt in 2016 was from 41 yards.
 
"He almost surrendered a couple of years ago, and not in a negative way," Ferentz said. "He kind of leveled off there a little bit, but the credit goes to him. Keith has worked so hard behind the scenes the last couple of years.  He and Caleb (Shudak, who handles Iowa's kickoff duties) are both practicing well. It's a real tribute to (Duncan's) hard work and focus. That's growing up."
 
Duncan said he doesn't feel pressure before kicks.
 
"I'd say the pressure is more how I'm going to strike the ball," Duncan said. "When you're sitting on the bench for 7 or 8 minutes, it's a mental thing. That's why you have to have your routine on the sideline."
 
Duncan said his first field goal of the game against the Boilermakers was the most important one.
 
"On that first kick, it's in the back of your mind, 'Man, if I don't make this one, it might have an impact on the rest of the game,'" Duncan said.
 
He came through, which he has done all season. He has done it at a school that could have been a Big Ten rival had he landed in West Lafayette, Indiana. He's glad he didn't.
 
"Iowa feels like home," Duncan said. "I don't picture myself anywhere else. I love this place. The people are great. What I think is awesome is that everyone sees the Iowa Hawkeyes as their professional team.  I never could have imagined that. It's awesome to be here, and it feels like home."
 
The Hawkeyes return to action Oct. 26, traveling to Evanston, Illinois, to face Northwestern.  Game time is 11 a.m. (CT) from Ryan Field.
 
Iowa football hosts Minnesota in the battle for Floyd of Rosedale on Saturday, Nov. 16.  Fans are encouraged to wear black for the Blackout game, and it is the annual military appreciation celebration. Active duty military and veterans are eligible for a military ticket discount. Click HERE for tickets and pre-paid parking and additional game information.