Hawkeye Fan Shop — A Black & Gold Store | Hawk Talk Monthly — October | 24 Hawkeyes to Watch 2019-20 | I-Club Events Page | Notes (PDF)
THIS WEEK
The University of Iowa swimming and diving team hosts Minnesota for its second Big Ten Conference dual of the season on Saturday at 11 a.m. (CT) at the Campus Recreation and Wellness Center. Admission is free. The Hawkeye men are ranked 23rd in the TYR top-25 rankings, while Minnesota is 25th.  The Golden Gophers' women's team is ranked 22nd in the poll.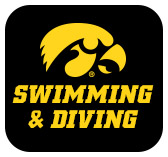 FOLLOW LIVE
• Live results will be on Meet Mobile and hawkeyesports.com.
• For an inside look at the Iowa swimming and diving program and access to exclusive coverage, "like" Iowa swimming and diving on Facebook and follow @IowaSwimDive on Twitter and @hawkeyeswimdive on Instagram.
 
LAST TIME OUT
The Iowa sent nine student-athletes to compete in the SMU Classic in Dallas on Oct. 11-12. The team posted several top-five performances, including two from senior Hannah Burvill in the 100 free (3rd) and 100 back (4th), Kelsey Drake in the 100 fly (5th) and 200 fly (3rd), and Millie Sansome in the 400 IM (3rd) and 500 free (3rd). Sophomore Sam Tamborski was the lone Hawkeye to post a first-place finish with her score of 302 on the 3-meter springboard.
 
AMONG THE RANKINGS
• The University of Iowa men's swimming and diving team is ranked 23rd in the Oct. 23 College Swimming Coaches Association of America/TYR rankings.
• The Hawkeyes have 25 points and are one of five Big Ten Conference teams in the rankings.
• Both the men's and women's teams are among CollegeSwimming.com's dual meet rankings based on early-season performances. The Hawkeye men are 14th with 695.60 points, while the Iowa women are 28th with 679.95 points.
 
LAST YEAR'S REVENGE
• In last year's dual, the Hawkeye men narrowly fell to No. 21 Minnesota, 158.50-141.50, at the Jean K. Robbins Aquatics Center. The Hawkeyes split the dual, as they dominated in a 248-50 victory over South Dakota State.
• The Hawkeye women defeated South Dakota State, 231-64, but were on the short end of a Big Ten dual against No. 21 Minnesota, 189.50-109.50.
• Iowa hasn't defeated Minnesota in Iowa City since 2017. 
 
HEARING FROM HEAD COACH MARC LONG
"We have a great lineup ahead of us and everyone is excited to race and get better. It's always a great meet against Minnesota and there are a lot of new faces in both programs. They've had some meets against high-caliber teams in Florida and Florida State, and it's fun to face these traditional rivalries."
 
HEARING FROM SENIOR SAM DUMFORD
On the upcoming matchup against Minnesota…
"With it being my senior year, I want to come out with a win. The last time we beat them was my sophomore year also in our pool. I'd love to win the final matchup against them at home."
 
On facing competition at home after a two-week training period…
"As a guys team, we're excited for this. We've had some tough weeks of training and our past two competitions against Michigan State and intrasquad have all had minimal breaks in training before and after. We haven't put on the brakes yet and it's exciting to see what we can do in competition this weekend."
 
On being ranked and what the team has shown in competition and practice to be there…
"The team has always pushed each other, but we're much more accountable this year in pushing each other. There's less feelings around like we need to do things and instead we feel like we are just naturally doing them. We're going above and beyond without being asked to do it, and the training has become more intense because of our attitudes toward it and not just because it's hard training."
 
HEARING FROM JUNIOR KELSEY DRAKE
On the upcoming matchup against Minnesota…
"I'm looking forward to race the people that are coming in to compete. (Minnesota) has a lot of good people and are a great team. This will be a year where we can come close, if not beat, Minnesota at home. It's exciting to see how we stack up against a team like Minnesota with all our new freshman."
 
On the depth on the women's team…
"What I see from the freshman this year has been different from the freshman in year's past. It's different how much they care and the dedication from everyone this year is high. There's an excitement from the freshmen and everyone on the team. There's a good feeling around the team as we go into the next several weeks facing great competition."
 
MEET-BY-MEET
• The Hawkeyes opened the season with three wins over Michigan State and Northern Iowa on Oct. 3. The men defeated the Spartans, 182-112, while the women pulled out the double victory over Michigan State and UNI in identical fashion, 183-113.
• At the season's first invitational, nine Hawkeyes took to the water at the SMU Classic and finished fourth out of six total teams with 242 points.
 
B1G HONOREES
The Hawkeyes have earned six Big Ten Conference weekly honors during the 2019-20 season.
Big Ten Men's Swimmer of Week: Anze Fers Erzen (Oct. 9)
Big Ten Men's Diver of the Week: Anton Hoherz (Oct. 9)
Big Ten Men's Freshman of the Week: Michael Huebner (Oct. 9)
Big Ten Women's Diver of the Week: Sam Tamborski (Oct. 9, Oct. 16)
Big Ten Women's Freshman of the Week: Millie Sansome (Oct. 9)
 
NCAA ZONE DIVING QUALIFIERS
Three Hawkeyes have posted NCAA Zone Diving standards this season.
 
1-Meter Women: Jayah Mathews (296.25), Sam Tamborski (279.55)
3-Meter Women: Sam Tamborski (316.45)
3-Meter Men: Anton Hoherz (341.60)
 
WHAT YOU NEED TO KNOW
• Marc Long is entering his 16th season as the Hawkeyes' head coach.  Long  has coached 44 All-Americans during his tenure as Iowa's head coach.
• Long was inducted into the National Varsity Club Athletics Hall of Fame in 2019.
• The Hawkeyes return four NCAA qualifiers from the 2018-19 season in senior Hannah Burvill, juniors Anton Hoherz and Jayah Mathews, and sophomore Sam Tamborski.
• Iowa also returns Will Scott and Joe Myhre, who both earned honorable mention All-America honors as sophomores in 2018.
• Iowa has 21 letterwinners returning on the men's team and 17 returning letterwinners on the women's team.
 
RETURNING NCAA QUALIFIERS
• Hannah Burvill –  Burvill is a two-time NCAA qualifier, including qualifying in the 50 free, 100 free, and 200 free last season.  The England native's highest finish came in the 200 free, where she finished 28th.  Burvill has been named Iowa's team MVP the past two seasons.
• Jayah Mathews – Mathews has qualified for the NCAA Championships in each of her first two seasons as a Hawkeye.  Last season, Mathews qualified off the 1-meter and 3-meter. She placed 26th off the 1-meter at the NCAAs.  The Australia native posted two top-10 finishes at the Big Ten Championships in 2019, placing fourth off the 3-meter and ninth off the 1-meter.
• Sam Tamborski – Tamborski qualified for the NCAA Championships off the 3-meter as a true freshman, where she placed 19th.  The Colorado native also placed 10th at the Big Ten Championships in 2019.
• Anton Hoherz – Iowa's 2019 team diving MVP qualified for his first NCAA Championships off the platform as a sophomore. He placed 40th overall.
 
BURVILL BACK FOR FINAL YEAR
Hannah Burvill returns for her senior season with her name littering the Iowa record books.  The England native holds four individual school records (50 free, 100 free, 200 free, 100 back) and she ranks second in the 500 free.  Burvill also is a record holder in four relays — 400-free relay, 800-free relay, 200-medley relay, and 400-medlay relay.
RECORD HOLDERS RETURNING
The Hawkeyes have seven men's student-athletes that enter the 2019-20 season as school record holders: Jackson Allmon (800-free relay), Mateusz Arndt (800-free relay), Anton Hoherz (platform), Joe Myhre (200-free relay, 400-free relay), Will Scott (200-free relay, 400-free relay), Aleksey Tarasenko (400-free relay, 800-free relay), and Michael Tenney (800-free relay).
• Along with Burvill's eight school records, the Hawkeyes have two additional school record holders on the women's team.  Kelsey Drake holds the record in the 100 fly, while Allyssa Fluit is a record holder as part of the 400-free relay and 800-free relay.
 
HAWKEYE NEWCOMERS
Iowa has 23 newcomers on the roster — 17 on the women's team and six on the men's team.  The Hawkeye women have as many newcomers as returning letterwinners on the squad.
• Freshman Will Myhre joins the men's team as a 19-time high school All-American.  He is the younger brother of senior Joe Myhre.
• Iowa welcomes international student-athletes from Poland (Julia Koluch), England (Millie Sansome), and Egypt (Mohamed Neuman) in 2019-20.
 
HOSTING B1Gs
After hosting the Big Ten Men's Swimming & Diving Championships in 2019, the women are coming to Iowa City in 2020.  The Hawkeyes will host the 2020 Big Ten Championships at the Campus Recreation and Wellness Center from Feb. 19-22.  It is the first time the women's championship has been in Iowa City since 2012.
 
COACHING STAFF ADDITIONS
The Iowa coaching staff has two new faces in 2019-20.  Brian Schrader and Emma Sougstad join the program as first-year assistant coaches. Schrader joins the program following a 13-year stint as head coach for the University of Denver, where he was a 14-time Conference Coach of the Year.  Sougstad, a Hawkeye All-American, joins the program after a two-year stint at the CSCAA. 
 
ON DECK
The Hawkeye women host Michigan for a Big Ten dual on Nov. 1 at 2 p.m. (CT), while the Iowa men travel to Bloomington, Indiana, for a double dual with Big Ten rivals Michigan and Indiana on Nov. 2 at 8 a.m. (CT). Admission is free.