Hawkeye Fan Shop — A Black & Gold Store | Hawk Talk Monthly — October | 24 Hawkeyes to Watch 2019-20 | Hawkeyes in the NFL | Football Freshman: Desmond Hutson | Football Freshman: Sam LaPorta | Football Freshman: Jermari Harris | Football Freshman: Justin Britt | Football Freshman: Tyler Goodson | Football Freshman: Jack Campbell
By DARREN MILLER
hawkeyesports.com
IOWA CITY, Iowa — It's not uncommon for University of Iowa football to host visitors when the team arrives at a bowl site.
 
That made for a busy 2018 holiday break for Dane Belton, who was a senior at Jesuit (Florida) High School in Tampa. In preparation for the Outback Bowl, the Hawkeyes went through drills at the University of Tampa, and Belton and his family were at every practice. They also attended the bowl game, where Iowa defeated No. 18 Mississippi State, 27-22.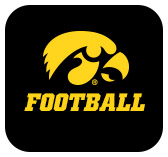 Belton was more than a casual visitor, he was a future teammate. A few days before Iowa's bowl trip, Belton, a 6-foot-1, 190-pound defensive back, signed a National Letter of Intent to attend Iowa. It had extra significance since his father, Danny, lived in Keokuk for a few years before attending Iowa.
 
"The coaching staff was a big part of (my decision), knowing they will be here," Belton said. "They have that reputation of sending people to the (NFL), building them, and the culture, the fans, the school. It all went together in choosing my school."
 
Belton had another connection to the Hawkeyes: his high school coach, Matt Thompson, is an acquaintance of Iowa defensive coordinator Phil Parker. As defensive coordinator at Armwood (Florida) High School, Thompson coached future Hawkeyes Antwan Allen and Chris Brevi.
 
Iowa head coach Kirk Ferentz said Belton showed promise in fall camp, but trying to understand all the concepts of a Division I defense takes time. Because of that, Belton had seen action against only Middle Tennessee State prior to the Hawkeyes' 26-20 Homecoming victory over Purdue on Oct. 19.
 
"He has steadily made progress and done a lot of good things since the start of August," Ferentz said. "Purdue is pretty much a spread team, so it gave us an opportunity to play another defensive back. We had a linebacker who was hurt (Kristian Welch), and the biggest thing is, (Belton) has done a good job."
 
When Purdue came out in certain offensive sets, Belton entered the game in the Cash position. In the most prolonged exposure of his college career, Belton responded with three solo and three assisted tackles.
 
"It was great getting back to playing football," he said. "I missed that so much; it was a great atmosphere, a great time, I had fun out there like I normally do playing football.
 
"It builds my confidence. That was my first time getting a lot of reps and I know I can go out and play football at the next level; it's nice knowing I can do my job and help the team win."
 
The biggest Homecoming highlight for Belton wasn't a tackle, but a block. Early in the third quarter, Iowa cornerback Riley Moss intercepted a Jack Plummer pass at Iowa's 21-yard line.
 
"I was right there and I turned around to block and I thought he was going to take it to the crib," Belton said. "That was a great moment, the crowd went wild. The whole game was a great atmosphere."
 
Belton's continued growth, as well as his performance against Purdue, should lead to more game action.
 
"As we go down the road, I can see him playing a lot for us and helping on special teams," Ferentz said.
 
The Hawkeyes return to action Oct. 26, traveling to Evanston, Illinois, to face Northwestern.  Game time is 11 a.m. (CT) from Ryan Field.
 
Iowa football hosts Minnesota in the battle for Floyd of Rosedale on Saturday, Nov. 16.  Fans are encouraged to wear black for the Blackout game, and it is the annual military appreciation celebration. Active duty military and veterans are eligible for a military ticket discount. Click HERE for tickets and pre-paid parking and additional game information.