Hawkeye Fan Shop — A Black & Gold Store | Hawk Talk Monthly — October | 24 Hawkeyes to Watch 2019-20 | Kathleen Doyle Feature | Photo Gallery | Media Day Takeaways | Tickets
By DARREN MILLER
hawkeyesports.com
IOWA CITY, Iowa — One of the great features of college athletics is that every few years there is roster turnover. The same is true for game jerseys worn by the University of Iowa women's basketball team.
 
Call them retro, old school, throwback, or vintage, the Hawkeyes delivered a slam-dunk with their newest gold alternative uniforms. Players unveiled them Thursday during the program's annual media day on Mediacom Court in Carver-Hawkeye Arena.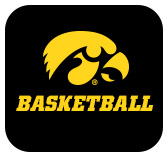 All three Hawkeye jerseys are new this season, including the home white and road black. The one turning heads and sending fans down memory lane is the alternate gold jersey, complete with script Iowa across the front. The Hawkeye men's basketball teams wore a similar style from 1982-84.
 
"You see those posters that are lining the halls around our athletic facilities with that old school look," said Kathryn Reynolds, director of player development. "It's kind of a tribute to those former teams. I think it's a good look to throw it back a little bit."
 
The design of the uniforms was a group effort that included members of the Iowa coaching staff and equipment manager Peggy Jenn. Jenn said most teams update uniforms every two or three seasons.
 
"We wanted something different, then got it approved through licensing," Jenn said. "We wanted to bring back that old school look."
 
Other distinctive features of the gold uniforms are two thick black stripes down the outside, a Tigerhawk on the back where last names typically appear, the Big Ten logo on the front left chest, a Nike swoosh on the front right chest, and a Tigerhawk in the middle of the waistband of the shorts.
 
"A fortunate thing about being a Nike school is that every few seasons you update and hit the reset button," said Reynolds, who played for the Hawkeyes from 2011-15. "The black and white uniforms are relatively similar to what they have been in past years; we try not to be too loud with the uniforms, we want them to look clean and sharp.
 
"The nice thing about the gold is that you can wear it at home or on the road."
 
Reynolds said the athletics department will also integrate a retro feel with marketing promotions that could include the team introduction video and schedule poster.
 
The Hawkeyes open the 2019-20 season with an exhibition contest against Winona State on Nov. 3. Tipoff is set for 2 p.m. (CT) in Carver-Hawkeye Arena. Season tickets are available for purchase at hawkeyesports.com/tickets.