Hawkeye Fan Shop — A Black & Gold Store | Hawk Talk Monthly — October | 24 Hawkeyes to Watch 2019-20 | Kathleen Doyle Feature | Photo Gallery | Following a New Script | Media Day Takeaways | Tickets
By DARREN MILLER
hawkeyesports.com
IOWA CITY, Iowa — This is the way it is supposed to happen with seniors, and University of Iowa forward Amanda Ollinger is on course.
 
She enters her fourth year in a women's basketball program that has averaged more than 24 wins a season since she arrived in 2016. At one time or another, she has played every position on the court. Not only does she know the program inside and out, she has already experienced the perimeter-oriented offense that will be re-implemented this season.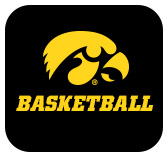 "When you get to year four, I feel I have a good chance to be a key on the team," Ollinger said.
 
There are statistics to support her claim. Ollinger was a bright spot during Iowa's 12-day summer tour to Spain, averaging 11 rebounds in three games. She posted double-doubles in points and rebounds during wins against Valencia and Mataro, averaging 14 points in the two games.
 
"I'm seeing her play her best basketball," Iowa head coach Lisa Bluder said. "What I am happy to see about Amanda is a different confidence level and I see somebody who is going hard to the rim for rebounds."
 
Rebounding is where the 6-foot-1 Ollinger wants to be a force. Over the course of her 88-game collegiate career, she is averaging 2.9 rebounds per game, a figure she knows will improve. Last season, when the Hawkeyes finished 29-7 and advanced to the Elite Eight of the NCAA Tournament, more than 35 percent of their rebounds were collected by National Player of the Year Megan Gustafson. She has graduated to professional courts.
 
"I want to do anything I can to help the team and getting boards to pick up for (the loss) of Megan will be a good role," Ollinger said.
 
A bulging disc in her back — the same injury that slowed her during her junior season — currently has Ollinger in day-to-day mode. She said she is healing fine and should be ready when the Hawkeyes tip-off the season Nov. 3 with an exhibition against Winona State.
 
Ollinger, a native of Cedar Rapids, Iowa, is part of Iowa's three-member senior class that includes guards Kathleen Doyle and Makenzie Meyer. Doyle has started 84 games in her career and Meyer has started 82; Ollinger started five times as a sophomore, but none as a junior.
 
"Maybe she hasn't played as much her first three years as she would have liked, but she's ready in her senior year," Bluder said.
 
The most productive of Ollinger's first three seasons came as a sophomore in 2017-18. She played 31 games (Iowa was 24-8), averaged 18.3 minutes, 4.1 rebounds, and 3.0 points per game.
 
"When you play a collegiate sport, not everything is going to go your way," Ollinger said. "At the time, it could be frustrating, but looking back, I have had an opportunity to do so many amazing things and be surrounded by so many amazing people. At the end of the day, I feel everything happens for a reason."
 
Bluder likes Ollinger's versatility that allows her to shoot from outside (she has 16 career 3-point field goals), post up or guard the post, and catch a ball in traffic.
 
A computer science and engineering major, Ollinger will graduate in December of 2020. She accepted a co-op at Collins Aerospace as a systems engineer for mission systems.
 
"I will be the person who helps program and design the things a pilot sees on the screen," Ollinger said.
 
The Hawkeyes open the 2019-20 season with an exhibition contest against Winona State on Nov. 3. Tipoff is set for 2 p.m. (CT) in Carver-Hawkeye Arena. Season tickets are available for purchase at hawkeyesports.com/tickets.