Hawkeye Fan Shop — A Black & Gold Store | I-Club Events Page | Photo Gallery | Postgame Notes (PDF) | Box Score (PDF) | Game Recap | Evans Finds his Niche on Iowa's Suffocating Defense | Super Effort by Iowa's Tyrone Tracy, Jr.
By DARREN MILLER
hawkeyesports.com
IOWA CITY, Iowa — It's eight games down and four crucial regular season games in November left for the 19th-ranked University of Iowa football team.
 
The Hawkeyes head into their second bye week with a record of 6-2 overall, 3-2 in Big Ten play.
 
"As we move into November, this is where things materialize and there is a lot to play for on a lot of different levels," Iowa head coach Kirk Ferentz said Sunday. "If you look at the conference race, it will get decided in November and it's wide open as far as I can tell. It's who can play the best coming down the stretch and we have four challenging, important games."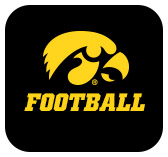 The Hawkeyes will kick their feet up for a spell this week before focusing on a road game at No. 18 Wisconsin on Nov. 9.
 
"We can't do anything but take care of the first one (at Wisconsin)," Ferentz said. "That's where our focus is going to be."
 
After back-to-back losses to No. 14 Michigan and No. 5 Penn State, Iowa bounced back to defeat Purdue and Northwestern on consecutive Saturdays.
 
"The guys have dug in and done a good job," Ferentz said. "I'm pleased to beat Purdue a week ago, and then to get Northwestern on the road (Saturday) and head into our bye week 6-2. That's the best we could be coming out of the losses.
 
"To me, the real story is how our guys stayed the course, stayed focused, and were very determined to make sure we got those two wins. I'm proud of their effort over the last couple weeks."
 
The Hawkeyes limited the defending West Division champion Wildcats to 202 yards and an 0-for-4 effort on fourth down. Iowa is now third in the nation in scoring defense (10.1 points per game), sixth in total defense (265.9 yards per game), and seventh in rushing defense (87.8 yards per game).
 
Here are other highlights from a Sunday Conversation with Coach Ferentz:
 
Young Players Emerge  
"The last couple weeks we have seen some good performances," Ferentz said. "You think about Dillon Doyle and Jack Campbell jumping in for Kristian Welch and Kristian was playing his best football. That was important. Tyler Goodson is emerging and has done a good job offensively. Sam LaPorta jumped in there and Shaun Beyer, who I still consider a young player, did a good job. Tyrone Tracy, a redshirt freshman, gave us a spark.
 
"We're seeing a lot of examples of guys of special teams and that is encouraging; hopefully we'll see more as we continue to move along and have more opportunity in November."
 
Stout Defensive Line
"None of the older guys started last year, but they are all starters now and doing a good job, playing with consistency," Ferentz said.
 
"Chauncey Golston's evolution, A.J. Epenesa made a lot of big plays last year and is playing well now. Chauncey is starting to gain traction out there; Brady (Reiff) and Cedrick Lattimore are playing their best football as seniors inside and have given us stability. Then you look beyond that and think about young guys like Daviyon Nixon, who is really a first-year player for us doing a lot of good things out there, and Joe Evans, who the last two weeks, a redshirt freshman who has given us a lot of juice at the defensive end position. John Waggoner got his first sack, Zach VanValkenburg, who joined the program this past June — a lot of contributions from a lot of guys doing a good job there."
 
Bye, Bye Week
"Our strategy is to rest our players more and we did that in the first bye week," Ferentz said. "It has been a long season, they have gone 12 weeks since the start of preseason practice. The biggest thing right now is to get their feet back underneath them and get the soreness out that comes with playing college football.
 
"The big thing this week is keeping our skills sharp, but do it as quickly and concisely as possible and get our guys off their feet."
 
Iowa football hosts Minnesota in the battle for Floyd of Rosedale on Saturday, Nov. 16.  Fans are encouraged to wear black for the Blackout game, and it is the annual military appreciation celebration. Active duty military and veterans are eligible for a military ticket discount. Click HERE for tickets and pre-paid parking and additional game information.