Hawkeye Fan Shop — A Black & Gold Store | Fight For Iowa | I-Club Events Page
IOWA CITY, Iowa — Four University of Iowa assistant football coaches — Seth Wallace, Kelvin Bell, Kelton Copeland, and Derrick Foster — met with the media Tuesday in the Stew and LeNore Hansen Football Performance Center during the Hawkeyes' bye week.
Here are a few takeaways: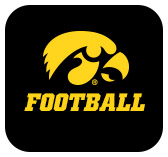 In 2018, Jake Gervase, Amani Hooker, Jack Hockaday, Parker Hesse, Anthony Nelson, Matt Nelson, and Sam Brincks were seniors on a University of Iowa defense that allowed 17.8 points and 293.6 yards per game. Would there be growing pains in 2019? Maybe. But through eight games this season, the Hawkeyes are third in the nation in scoring defense (10.1 points per game) and sixth in total defense (265.9 yards per game).
 
"We're not surprised at all," defensive line coach Kelvin Bell said. "That's how we play football."
 
"You look at the consistency and the proof is more in the stability of what we're doing scheme-wise than who is out there," linebackers coach Seth Wallace said. "It's a collective effort of what we have been able to do, regardless of who is in there."
 
As of now — and according to statistics — this is the stingiest defense of the Kirk Ferentz era that began in 1999. Bell and Wallace were asked if they felt they were watching an elite defense in action.
 
"No it doesn't," Bell said. "I keep the stat line from the 2002 (Iowa) defensive line on my desktop. Until we reach that level defensively, we don't talk about being elite. We just want to be better than last week."
 
"It goes back to what we see," Wallace said. "We see so much more we can be better at. There has been a lot left out there."
 
Several young/new players have joined the rotation on Iowa's defensive line: Joe Evans, John Waggoner, and Zach VanValkenburg to name three.
"It's all about practice and we talk about it with the guys about it all the time," Bell said. "They have to earn my trust. If I don't trust you to play, I'm not putting you out there. As they practice well and give me confidence during the week, then I put you out there for a series and if we're clicking, then I feel more confident. I'm not putting guys out there just for the sake of resting other guys."   
Running Game Moving Forward
The Hawkeyes are averaging 145.8 yards per game during the team's 6-2 start to rank ninth in the Big Ten Conference.  Iowa is employing a running-back-by-committee approach with 127 yards separating leading rusher Mekhi Sargent (443 yards) and Tyler Goodson, who is third on the team with 316 yards.
 
"I am pleased up to this point, not satisfied by any means," said assistant coach Derrick Foster. "We can always get better.
 
"Going into the bye week we can look back and see what we can do better with some things. We can fix our eyes, whether they're in the right places and making sure what we're supposed to do fundamentally."
 
Goodson, who is averaging 4.9 yards on 64 attempts, has impressed Foster from the get-go.
 
"The kid is humble and he's willing to learn," said Foster. "Tyler responds to coaching. You can go back and watch him in previous games, pointing out what he can improve on and he accepts that accountability."
 
Hawkeye Heartbeat
When wide receiver's coach Kelton Copeland is stationed in press boxes on game day, he's providing a bird's eye view of the Hawkeyes.  His eyes naturally gravitate toward junior wide receiver Ihmir Smith-Marsette.
 
"I get to see what's going on with the coaches and players among the fray," said Copeland. "You see body language and how the guys react both good and bad.
 
"One of the first guys I look for is Ihmir. He's the heartbeat of our offense. He is a guy that gets to everyone when things aren't going great and keeps guys up.  He's a player we look to a lot on and off the field."
 
Every Day is a Competition
Copeland's directive in the Iowa wide receiver room is straightforward.  Either improve or get left behind.
 
"There is a challenge in the room right now, it's a race to get better," said Copeland. "Our room is an opportunity to get better. Either you take that opportunity and improve or you're not."
 
Iowa's wide receiving corps has been one of the team's biggest strengths through the season's first eight games.  Junior Brandon Smith (33 catches, 407 yards, 4 touchdowns), redshirt freshman Nico Ragaini (31 receptions, 284 yards), and Smith-Marsette (30 catches, 463 yards, 3 touchdowns) all have 30 or more receptions and redshirt freshman Tyrone Tracy, Jr., is fifth on the team with 17 catches for 306 yards and two touchdowns.
The Hawkeyes are idle Nov. 2. Iowa returns to action Nov. 9, traveling to Madison to face No. 18 Wisconsin in a battle for the Heartland Trophy at Camp Randall Stadium.
Iowa football hosts Minnesota in the battle for Floyd of Rosedale on Saturday, Nov. 16.  Fans are encouraged to wear black for the Blackout game, and it is the annual military appreciation celebration. Active duty military and veterans are eligible for a military ticket discount. Click HERE for tickets and pre-paid parking and additional game information.