Hawkeye Fan Shop — A Black & Gold Store | Hawk Talk Monthly — November | 24 Hawkeyes to Watch 2019-20 | Wallpaper — November | Tickets | Game Notes | Ollinger Could Be Iowa's Surprise | Meyer Sisters Reunite | Following a New Script | Kathleen Doyle Feature
By DARREN MILLER
hawkeyesports.com
IOWA CITY, Iowa — University of Iowa women's basketball players will receive a reprieve from the preseason grind Sunday when the Hawkeyes host Division II Winona State from the Northern Sun Conference. Tip-off is 2 p.m. (CT) from Mediacom Court in Carver-Hawkeye Arena.
 
Iowa head coach Lisa Bluder met with media on a teleconference Friday. Here are a few takeaways: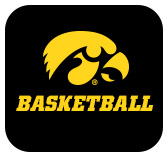 Ollinger Health Update
At the team's media day Oct. 24, Bluder said senior forward Amanda Ollinger was slowed by a back injury. There is good news on the injury front: the Hawkeyes are completely healthy, including the 6-foot-1 Ollinger.
 
"She is available and ready to go," Bluder said. "We're not going to start her on Sunday, but she will play significant minutes and I don't have any real restrictions on her at this point. That is good news."
 
Starting Five
With Ollinger likely to be the first player off the bench Sunday, that leaves Iowa's starting five as seniors Kathleen Doyle and Makenzie Meyer, junior Alexis Sevillian, sophomore Monika Czinano, and freshman Kate Martin.
 
Regular-Season Rotations
The Hawkeyes would love to clear the bench Sunday, but Bluder said she will make substitutions as regular-season game-like as possible.
 
"I want to emulate as much as I can for what is going to happen Thursday [in the season opener against Florida Atlantic]," Bluder said. "Do I hope everybody gets in? Yes. I hope that happens every game, but we know that sometimes it doesn't. It depends on how the game goes whether everyone gets into this game or not; I'm hoping everybody can."
 
It will be a Successful Exhibition if…
"It gives us chance to get the nerves out. It is a chance to get out here, make mistakes and learn from our mistakes before they really count," Bluder said. "I want to see great execution. I want to see us execute our transition and transition defense; making sure we're doing things the proper way. Not just to win, but to get better at doing them the proper way.
 
"I hope Winona State points out weaknesses for us and makes us aware of weaknesses, because now is a time to correct them."
 
A Work in Progress
As you would expect, there is plenty for the Hawkeyes to work on as the 2019-20 season nears its tip-off.
 
"A little bit of everything," said Bluder, referring to what her team needs to improve upon. "That's a question that has about five pages of answers. We're always a work in progress, so we're always trying to get better and trying to execute better and work on timing, passing, rebounding. It is on and on and on. That is not unusual for this time of year."
 
Iowa is coming off a season where it posted a 29-7 record, won the Big Ten Tournament, and advanced to the Elite Eight of the NCAA Tournament. The Hawkeyes have made 12 consecutive postseason appearances. Season tickets are available for purchase at hawkeyesports.com/tickets.