Hawk Talk Monthly — November | Hawkeye Fan Shop — A Black & Gold Store | Youth Clinic Registration | 24 Hawkeyes to Watch 2019-20 | Match Recap | Photo Gallery
By DARREN MILLER
hawkeyesports.com
IOWA CITY, Iowa — When it comes to college wrestling, the month of December isn't the most wonderful time of the year. For the University of Iowa, the most wonderful time will be three months from now in the cities of Piscataway, New Jersey, and Minneapolis.
 
But a resounding 29-point dual victory over the No. 6 team in the country is worth celebrating, even if it happens three days after Thanksgiving.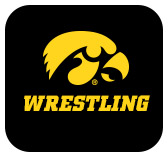 "If you keep getting better, the most important time of the year is March," Iowa head coach Tom Brands said, after his top-ranked Hawkeyes defeated Wisconsin, 32-3, on Sunday on Mediacom Mat inside Carver-Hawkeye Arena. "The Big Ten and national tournaments are the most important things. You can make statement wins any time: Easter, Thanksgiving, Christmas. You just have to keep getting better as you go forward. Peaking is a mindset."
 
Iowa's lineup carved through the Badgers as easily as a sharp knife through a well-done Thanksgiving turkey. You could say it was as easy as counting to 1, 2, 3…which, ironically, were the national rankings of three Wisconsin wrestlers the Hawkeyes defeated by a combined score of 13-6. None of the top-three-ranked Badgers earned a takedown.
 
"It doesn't matter if it's Dec. 1 or if it's March1," said Iowa junior 165-pounder Alex Marinelli. "You're going to go out there and compete the same way. You have all these competitions and dual meets and every match counts. It makes the season fun when you have Wisconsin coming in here, the No. 6 team in the country, that was a good crowd (of 10,603) out there."
 
Two-time defending NCAA champion Spencer Lee opened the dual how you would expect the top-ranked 125-pounder to open a dual: with a 16-0 technical fall that included 12 nearfall points. That warmup was followed by a highly anticipated bout between Iowa junior Austin DeSanto, ranked No. 2 at 133 pounds, and No. 1 Seth Gross, the 2018 NCAA champion. DeSanto used three takedowns to dominate the former Hawkeye, 6-2.
 
"Scoring points is good, so that's what you plan to do," DeSanto said. "The big thing with (Iowa associate head coach) Terry (Brands) telling me to stay on my attack and be ready for anything; Go out there and let it loose and be calm. That's what I did and it worked."
 
The thing about competing in the Big Ten is you're guaranteed multiple head-to-head meetings with elite opponents during the season. DeSanto knows he got the first of what could be several looks at Gross.
 
"I just went out and wrestled," DeSanto said. "I know he is a professional. He is an adult and he is going to come back harder. He is the man, but I just wrestled.
 
Austin DeSanto (133) just knocked off No. 1 Seth Gross and Carver is officially up for grabs. 🔊🗣️ @Hawks_Wrestling

Tune into BTN now!@FloWrestling x @ncaawrestling pic.twitter.com/7SJoHHJKjz

— Iowa On BTN (@IowaOnBTN) December 2, 2019
 
"It's a long season. What are we, December? I'll see him at Midlands, I will see a lot of those other guys, too, during the season. I'm not looking ahead, just looking at the next thing. I don't really look at rankings, I couldn't care less."
 
DeSanto's performance wasn't lost on Marinelli, who had an emotional rematch with Evan Wick four bouts later at 165 pounds. Marinelli had won three straight meetings between the two-time All-Americans who flip-flop between the No. 2 and No. 3 positions on multiple national rankings. Marinelli's second takedown with 26 seconds remaining sealed a 4-2 victory.
 
"DeSanto beating Seth Gross the way he did — Seth Gross is a great competitor and (DeSanto) stayed on his attack and that's what I thought I needed to do, too," said Marinelli, who improved to 14-0 in Carver-Hawkeye Arena. "You feed off great energy. These guys are my brothers and when they win like that, you want to do the same thing."
 
Not to be outdone was Iowa redshirt freshman heavyweight Tony Cassioppi, who was going against second-ranked Trent Hillger. Last season, Hillger was fourth in the Big Ten Championships and eighth at nationals.
 
Cassioppi earned a takedown midway through the first period and held on for a 3-2 victory, capping an impressive evening for the Hawkeyes.
 
"This Cassioppi guy gets up for big matches," Brands said. "It's a big deal. He gets ready to wrestle these matches, he goes out there and performs and it's not a big deal anymore, because he knows there are more fish to fry. If you want a glimpse into our heavyweight, that sums it up pretty well."
 
Sunday also offered a glimpse of the composite strength of the Hawkeye wrestling team. Yes, it's still early December, but statement wins can come at any time of the year.