Hawk Talk Monthly — December | Hawkeye Fan Shop — A Black & Gold Store | 24 Hawkeyes to Watch 2019-20 | I-Club Events Page | Notes (PDF) | Results PDF
MINNEAPOLIS – The University of Iowa swimming and diving team posted numerous career bests and a school record on Day 2 of the Minnesota Invitational.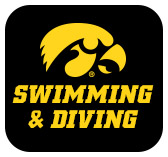 BURVILL NOTCHES SCHOOL RECORD
Senior Hannah Burvill broke her own school record in prelims of the 50 free after touching in 22.54 seconds. Burvill swam .02 off that time in finals, taking seventh place.
 
CAREER BESTS ACROSS THE BOARD
Senior Allyssa Fluit moved up to fifth all-time in Iowa history in the 500 free after she swam a blistering 4:48.02 in the finals.
 
Sophomore Mateusz Arndt posted an NCAA 'B' cut in the 500 free for the men, touching in 4:19.89, the second fastest time in school history.
 
Junior Daniel Swanepoel moved to third all-time in school history after a 1:47.33 swim in the 200 IM. Freshman Ryan Purdy followed Swanepoel, earning ninth in program history with a time of 1:48.32.
 
Senior Steve Fiolic tabbed seventh in the men's 50 free, posting a time of 19.80. His prelim time of 19.73 was a career best and ties for eighth all-time in program history with fellow senior Will Scott. In the 50 free 'B' final, sophomore Aleksey Tarasenko cracked sixth in program history with a 19.68.
 
Wrapping the night with the 400-medley relay, the team of Millie Sansome, Alessandra Olesiak, Kelsey Drake, and Burvill notched the sixth-fastest time in Iowa history in 3:38.92.
 
DIVING WOWS
Freshman Mohamed Neuman pulled seventh on the 3-meter springboard, reeling in a score of 288.45. Anton Hoherz won the 'B' final with a score of 324.90.
 
Junior Jayah Mathews finishes third on the 1-meter springboard after posting a score of 287.15. Sophomore Sam Tamborski was seventh with 261.70 points.
 
PROACTIVE FINISHES
Junior Kelsey Drake posted a time of 2:01.22 in the 200 IM, which was just .1 off her career best.
 
In the day's final swimming event, the team of John Colin, Will Myhre, Michael Tenney, and Tarasenko swam to a 3:12.17.
 
TEAM SCORES
Iowa ranks fifth among the men's field with 112 points, stacking ahead of Minnesota and Harvard. The women sit seventh with 90 points.  
 
UP NEXT
The Hawkeyes return to action tomorrow for prelims at 10 a.m. (CT) and finals at 6 p.m. (CT) at the Jean K. Freeman Aquatic Center. Follow along on Hawkeyesports.com by clicking the live stats link of the schedule page or follow on MeetMobile.