Hawk Talk Monthly — December | Hawkeye Fan Shop — A Black & Gold Store | 24 Hawkeyes to Watch 2019-20
IOWA CITY, Iowa — Head coach Fran McCaffery is pleased with the way the University of Iowa men's basketball team has performed through 6/7th of it's grueling November and December stretch.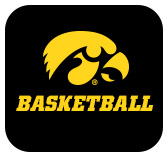 The Hawkeyes' final 1/7th takes place Saturday in a rematch of last season's NCAA Tournament game when Iowa faces Cincinnati at the Chicago Legends event in Chicago.  Tipoff is set for 8:10 p.m. (CT) from the United Center.
 
"Our guys handed (the stretch) with maturity and were professional in their approach," said McCaffery on Thursday. "We didn't anticipate being banged up and getting guys hurt, but the critical thing is we have a group that understands that they have to step up and be effective. To a man, they have all been that.
 
"They're a group that takes a business-like approach in practice and meetings, on the road — we performed well on the road — that's the business-like approach I am talking about. We'll need more of that this weekend."
 
New Coach, New Team, New Bearcats
Cincinnati brings a 7-4 record into the Windy City under first-year head coach John Brannen.  Reigning Big East Player of the Year Jarron Cumberland is back and averages 12.8 points, and the Bearcats have four players averaging double figures.
 
Cincinnati is coming off a home victory over No. 21 Tennessee, 78-66, on Dec. 18.
 
"They were impressive last night," said McCaffery. "They played an impressive game at Ohio State to start season and have some other good ones. Last night to beat Tennessee in front of a sellout crowd the way they did was impressive.  You're looking at a team that has figured out their eight, nine-man rotation. They have a lot of guys playing well; it's not just one or two."
 
Tardy, For Good Reason
There was an audible Thursday for McCaffery's news conference. Instead of holding a traditional news conference in the Press Room in Carver-Hawkeye Arena at 11:25 a.m., McCaffery met the media in the foyer outside of the men's basketball suite 30-35 minutes later… for good reason.
 
McCaffery was at the University of Hospitals and Clinics with the Bohannon family; Jordan Bohannon underwent hip surgery this morning.
 
"The surgery went well," said McCaffery. "I spent about 45 minutes to an hour with his family. He wasn't out of recovery yet; I was hoping to see him.  The surgery went well, that was the important thing."
 
Step Up Joe T., Ryan Kriener
With Bohannon officially sidelined for the remainder of the 2019-20 season, senior Ryan Kriener and freshman Joe Toussaint will be thrust into bigger roles, possible starting roles.
 
"I might go big, I might go small," said McCaffery. "We're working on both. Sometimes it might be a function of who we're playing."
 
They can go small with Toussaint, who is averaging 6.7 points and has 25 assists in 14.8 minutes per game. They can go big with Kriener, who is averaging 6.3 points and 4.4 rebounds in 14.4 minutes.
 
"We'll be different, but it creates a different dynamic, inserting Joe. T or Ryan into the starting lineup," said Connor McCaffery. "That changes a lot. Jordan brings us another aspect of shooting and spacing, but there are advantages to having every lineup out there.
 
"We have grown more accustomed to being comfortable in both lineups. We've been starting small and Ryan will come in for me, then we'll go big for part of the game. That has gone well, having the two bigs in there and having four guards, with Joe T's quickness at the one and me at the four, we have a better perimeter game. It has been working and I think it will continue to."
 
How tough is Luka Garza?
Remember the elbow Luka Garza took in the victory over Texas Tech in Las Vegas or the friendly fire that jarred loose his tooth against Iowa State?  Both instances showed Garza's toughness.
 
"You either have that in you or you don't," said McCaffery. "With him it was never a thought that he wouldn't come back in. In both cases, I'm not sure you would have blamed Luka for not coming back in.
 
"I don't know many guys that get their lip stitched back together without pain medication, that's a different kind of person.  If they would have done pain medication, he wouldn't have been able to come back. So he was like stitch it up, go ahead. 
 
"The tooth thing, it's painful when it goes back into your gum like that. He was chomping at the bit to go back in, so I put him back in.  That's what I am going to do." 
 
Back at Carver
After rounding out the stretch that saw the Hawkeyes play six of seven games away from Iowa City, the Hawkeyes return to Mediacom Court on Dec. 29, hosting Kennesaw State at 3:05 p.m. (CT).  Tickets are available on hawkeyesports.com/tickets.