Hawk Talk Monthly — December | Hawkeye Fan Shop — A Black & Gold Store | 24 Hawkeyes to Watch 2019-20 | Game Notes
By DARREN MILLER
hawkeyesports.com
IOWA CITY, Iowa — Growing during the grind.
 
An 18-game Big Ten Conference schedule kicks off for the University of Iowa women's basketball team Saturday at Nebraska and head coach Lisa Bluder wants to see continued growth from her Hawkeyes.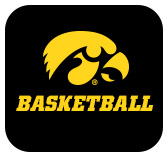 Iowa (9-2 overall) enters the league opener on a four-game winning streak; Nebraska (10-1) has won five in a row. Tipoff is 1 p.m. (CT) from Pinnacle Bank Arena in Lincoln, Nebraska. 
 
"When I first started in this league (in 2000-01), there were some gimmees," Bluder said Friday during a teleconference. "There were teams you knew if you didn't give your best performance, you could still probably get out of there with a win. It's not that way anymore. Every game is so difficult, especially when you are on the road — winning on the road in the Big Ten is very special."
 
It will be the fifth straight time the Hawkeyes have opened the Big Ten season on the road. They hosted Penn State to kick off the 2014-15 conference slate, but since have opened at Nebraska (2015-16), Illinois (2016-17), Wisconsin (2017-18) and Michigan State (2018-19).  
 
"We end on the road, too (March 1 at Rutgers), and I don't like that," Bluder said. "At least we have been able to end at home if we start on the road and that is kind of nice. I'm a little disappointed that we are starting and ending on the road — that is a little bit unfortunate."
 
It has been a happy holiday season for Bluder. Her Hawkeyes navigated through a successful nonconference schedule against teams that predominantly played zone, player-to-player and pressed.
 
"We played a nice array of teams," Bluder said. "We have challenged ourselves with playing against different styles and that will bode well for us during the Big Ten season."
 
There are other encouraging signs: members of Iowa's freshman class are improving, there is scoring balance with seven Hawkeyes averaging between 15.9 and 6.0 points per game, Iowa features a formidable inside-outside game, and the team has passed its way to 21 assists per game.
 
Nine of the 14 Big Ten teams enter league play with either one or two losses, making it as strong and deep as ever.
 
"It is such a demanding conference, but it makes you better," Bluder said. "You have to be sharp every game, you can't have any off nights. Some people are saying this might be the best the Big Ten has been and we might have the most teams ever in the NCAA Tournament. That's exciting."
 
The Hawkeyes will leave Iowa City earlier than usual Friday in order for the team and staff to gather in a hotel ballroom to watch the SDCCU Holiday Bowl football game between Iowa and Southern California.
 
"We'll have a big screen projector and snacks and we're going to have fun cheering on our Hawkeyes," Bluder said. "We're looking forward to the bowl game and having an opportunity to cheer the guys as a team. That will be a lot of fun."
 
The next day, Iowa's 18-game Big Ten grind officially begins.