Hawkeye Fan Shop — A Black & Gold Store | Hawk Talk Monthly — February | 24 Hawkeyes to Watch 2019-20 | FULL MEET RESULTS (PDF) | I-Club Events Page
BLOOMINGTON, Ind. — The University of Iowa men's swimming and diving team concluded the 2020 Big Ten Championships in sixth place, scoring 571 points.
 
The sixth-place finish is Iowa's highest since finishing fifth in 2012.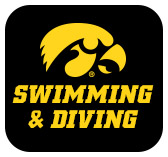 MOVING UP IN FINALS
The Hawkeyes started this morning's prelims in ninth overall, but moved up with swimmers representing in finals for every event.
 
Junior Daniel Swanepoel re-broke his 200 breast stroke record from Wednesday night, posting a blistering 1:53.53 to place sixth overall. Freshman Will Myhre recorded a career-best time of 1:55.71, making the 'B' final and moving to third all-time. He finished 15th after touching in 1:55.88.
 
Senior Weston Credit tabbed a career-best 1:57.91 and moved to fourth all-time to round out his collegiate career.  He was 25th overall.
 
Senior Michael Tenney notched a career best in the 200 fly, swimming a 1:44.18 in prelims and scoring 25 points in the 'A' final courtesy of a fifth-place finish. Sophomore Mateusz Arndt tabbed eighth in school history in the 200 fly with a 1:47.36 in the prelims.
 
Sophomore Anze Fers Erzen dropped a 1:42.68 in the 200 back, followed by Preston Planells at 1:43.89. Freshman Ryan Purdy followed a career-best 1:43.83. Planells moved to seventh all-time and Purdy to eighth in Iowa history with their career bests.  The trio finished 10th, 12th, and 16th overall.
 
Sophomore Aleksey Tarasenko made the 'A' final in the 100 free, touching in 42.90. In finals, Tarasenko earned an eighth-place finish in 43.46.
 
DIVING GETS 'A' PLUS
Freshman Mohamed Neuman collected a podium finish at seventh in the platform diving finals and posted a score of 355.15 career-best, good for third all-time. Junior Anton Hoherz also collected points for Iowa, scoring an NCAA Zone Diving standard with 308.50 points to place 13th.
 
RELAY CLOSES OUT
The 400-free relay team of Tarasenko, freshman Sergey Kuznetsov, Will Myhre, and senior Will Scott finished ninth with a time of 2:54.97, solidifying Iowa's sixth overall team placing.
 
FERS ERZEN RECOGNIZED
Fers Erzen was tabbed as Iowa's recipient for the Big Ten Sportsmanship Award.
 
UP NEXT
The Hawkeyes travel to the NCAA Zone 'D' Diving Championships from March 9-11 in Dallas, Texas.