Hawkeye Fan Shop — A Black & Gold Store | 24 Hawkeyes to Watch 2019-20 | I-Club Events Page
IOWA CITY, Iowa – The University of Iowa diving team travels to Dallas, Texas, to compete in the 2020 NCAA Zone D Diving Championships from March 9-11 at the Robson & Lindley Aquatics Center and Barr-McMillion Natatorium.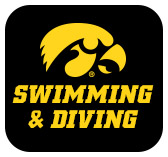 The Hawkeye women open competition Monday off the 3-meter springboard, while the men will dive off the 1-meter. The following day, the women will compete off the 1-meter and the men off the 3-meter before the action concludes with the platform competition Wednesday.
 
Freshman Mohamed Neuman and junior Anton Hoherz have qualified for Zones in all three events from the men's team, joined by all four members of the women's diving team. Senior Thelma Strandberg, juniors Jayah Mathews and Claire Park, and sophomore Sam Tamborski all boast qualifying standards off the 1-meter springboard, with Tamborski and Mathews also holding standards off the 3-meter.
 
Mathews, a two-time NCAA qualifier, currently sits at No.2 in school history off the 1-meter (330.05) and No. 3 off the 3-meter (380.20). Tamborski, a 2019 NCAA qualifier, ranks fifth in school history off the 3-meter with a score of 355.05.
 
Neuman, who broke into the records books this season, holds the third-best score off the platform with a 355.15 at last week's Big Ten Championships. The Cairo, Egypt, native also holds the 10th-best standard in Iowa history off the 1-meter with a score of 344.00. Hoherz is the school record holder off the platform after achieving a score of 415.65 at the 2018 Big Ten Championships.
 
Fans can follow the action on divemeets.com.