Hawkeye Fan Shop — A Black & Gold Store | 24 Hawkeyes to Watch 2019-20 | I-Club Events Page
DALLAS, Texas — University of Iowa sophomore Sam Tamborski qualified for the NCAA Championships on the 3-meter springboard on day two of the NCAA Zone D Diving Championships on Tuesday at the Robson & Lindley Aquatics Center and Barr-McMillion Natatorium.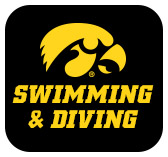 TOP PLACINGS
Tamborski stole the show for the Hawkeyes on the 3-meter springboard, finishing with a combined score of 630.05 overall. The Castle Rock, Colorado, native was 10th in preliminaries with a 291.15 before jumping to seventh in the finals with a score of 338.90. 
 
It will be Tamborski's second NCAA Championship berth in as many seasons. 
 
Junior Claire Park rounded out the women's 3-meter competition with a score of 218.65.
 
Junior Anton Hoherz placed 16th overall on the 1-meter springboard, collecting a combined 571.95 points. His 287.55 in prelims qualified at 15th, falling one spot with a finals score of 284.40. Freshman Mohamed Neuman (264.55) and sophomore Jonatan Posligua (241.15) both rounded out preliminaries.
 
UP NEXT
The Hawkeyes return to action Wednesday for the platform competition, the final event of the meet. Follow along at divemeets.com.