Hawkeye Fan Shop — A Black & Gold Store | 24 Hawkeyes to Watch 2019-20 | I-Club Events Page
DALLAS, Texas – University of Iowa freshman Mohamed Neuman closed the 2020 NCAA Zone D Diving Championships by qualifying for the NCAA Championships off the platform.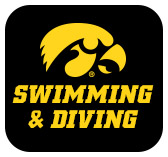 Neuman will also dive off the 3-meter at the NCAAs.
Neuman, an Alexandria, Egypt, native, finished fifth-overall in the field with a combined score of 696.25. Junior Anton Hoherz (344.85) and sophomore Jonatan Posligua (312.65) both recorded season bests in prelims, and rounded out finals with scores of 307.50 and 283.90.
Senior Thelma Strandberg finished 15th overall on the women's platform, posting a cumulative score of 441.85. Her prelim score of 240.35 was a season best.
UP NEXT
Ahead of the upcoming NCAA Championships, Iowa boasts six total athletes, three from each the men's and women's teams.
Senior Hannah Burvill, junior Kelsey Drake, and sophomore Sam Tamborski travel to Atlanta, Georgia to compete from March 18-21, while sophomore Anze Fers Erzen, junior Daniel Swanepoel, and Neuman head to Indianapolis from March 25-28.