Hawkeye Fan Shop — A Black & Gold Store | 24 Hawkeyes to Watch 2019-20 | Hawk Talk Monthly — March | Final Wrestling Notes | For Lee, Hodge Trophy is a Silver Lining | Lee Wins Hodge Trophy
IOWA CITY, Iowa — It was pretty solid weekend news cycle for the Iowa Wrestling team.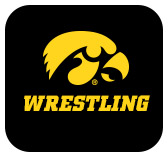 The Big Ten champions and NCAA favorites were told Friday that the National Wrestling Coaches Association would recognize a 2020 All-America class. For Iowa, that includes 10 wrestlers — as in 10-out-of-10 — more than any school in the country.
On Sunday, one of those All-Americans, Michael Kemerer, announced publicly that the NCAA had granted him a sixth year of eligibility. Officially, it is a clock extension resulting from a redshirt year during his initial year of enrollment (2015-16), and a hardship waiver, resulting from an injury that caused him to miss his junior season in 2018-19.
Simply put, NCAA decision means Kemerer can return to the Iowa lineup in 2020-21. It means he'll have another shot at a Big Ten and NCAA title. It means he has a chance to become a four-time All-American (20 Hawkeyes in school history have done it), and it means Iowa returns nine All-Americans from a 2020 lineup that was hands down the best in the country.
"We should have a strong team next year. I am excited for it and already ready to compete again," Kemerer said. "We are bringing a lot of guys back, but it is a new season now, so we are going to have to go out and earn it again. You don't take your accomplishments from last year into the next year, so we have to be looking forward, but we have a good team and it is going to be a fun year."
Kemerer has had time to consider next season. He wasn't surprised by the NCAA decision, crediting his coaching staff, the compliance office, and athletic trainer Jesse Donnenwerth for staying on top of the process.
"Give them credit," Kemerer said. "The coaches, Jesse, (Dave) Aspelmeier; they put the pieces together and sent it in, made it happen.
"I was confident I was going to get it. I never really worried about it, but it is nice to know now. I was able to tell my family, friends, and girlfriend. It was welcome news, but there was not much of a celebration. It was more, 'hey, we got good news and now we can move on.'"
Onward, looking forward, getting better; common phrases from a wrestling program made up of world-class competitors. It is the Iowa way, but the Iowa way does not negate the past, and Kemerer says he and his teammates can fondly look back on the 2020 season.
"We did so many things and met every challenge we faced," Kemerer said. "We had a great team and a lot of fun doing it. There is always the stuff in the history books that reflects what we were able to do. We will definitely be able to look back and be proud of it."