Hawkeye Fan Shop — A Black & Gold Store | 24 Hawkeyes to Watch 2019-20 | Hawk Talk Monthly — March | Final Wrestling Notes | For Lee, Hodge Trophy is a Silver Lining | Lee Wins Hodge Trophy
IOWA CITY, Iowa — University of Iowa junior Spencer Lee was a guest this week on "TigerHawk Talk," an online Zoom conference call with Henry B. and Patricia B. Tippie Director of Athletics Chair, Gary Barta, and invited guests.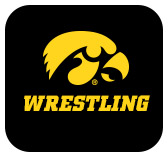 Lee was introduced by Barta before participating in a Q&A with Associate Athletics Director Matt Henderson. The conversation ranged from COVID-19 response to Lee's reflection on a historical season, not only for the Iowa Wrestling program, but for the entire Hawkeye athletics department.
GARY BARTA: We have a number of student-athletes that we'd love for you to hear from, as we had so much momentum going into the crisis. Men's basketball, Luka Garza was the best player in America in our opinion. Women's basketball, Kathleen Doyle was drafted in the second round of the WNBA. Laulauga Tausaga, the defending national champion in discus, the list goes on and on and on.
Spencer Lee really represents everything we could possibly ask for in a student-athlete. He had more to gain, and his team had more to gain and lose than really anybody. And as hard as that would be, his attitude, leadership, and commitment to moving forward remain at an all-time high. He was the 2020 Hodge Trophy winner, awarded to the most dominant wrestler in America. So, with that said, I'll ask Spencer to please take it from here.
SPENCER LEE: Thank you, Gary. I want to thank everyone for being here and for your support of Hawkeye athletics. You know, it's tough times. Unprecedented times. I want to make sure everyone is safe and let you know that I'm looking forward to getting back on the mat again. It's been a while since the Big Ten Championships, but first I want to thank those who are helping us, the essential personnel, the ones on the front lines of health care. My mom works in hospital, so I know it's hard and those are the people we wouldn't be here without, so thank you.
MATT HENDERSON: Spencer, thank you for being here and taking the time to answer some questions that have come in for you. Can you talk about your feelings when you first heard from your coaches that the season was ending and you weren't going to get that chance to compete at the NCAA Championships?
LEE: It was disappointing. It was a big year for us. We hadn't won NCAAs since 2010 and we are a team that people expect to win. We know every year we have to go out and do our best and this was our year. Every year is our year, but this year we were number one going in, undefeated. We beat the defending national champs in a dual meet. We beat them at Big Ten's. We had three number one seeds at NCAAs, a two, three, five, six, seven, eight, and an 11. We had guys that were poised to go out there and put on a show and bring back a title for the Iowa Hawkeyes. When they told us the season was over, it was the week before nationals and we were already peaking, and the next thing you know it's gone. We just had to focus on what's the next best thing. That included focusing on our studies and staying in shape and staying healthy.
HENDERSON: Can you talk a little bit about that, staying in shape? It's hard with the athletics facilities closed right now, so many student athletes are having to find ways to stay in shape on their own. How are you going about that process?
LEE: I'm a guy that needs to definitely keep in shape. That's just how I am as a wrestler. I am not always in the best shape all year, so I have to keep it going. Tom and Terry call me pretty much every day. They make sure that I'm doing something with the guys, running, walking, bodyweight stuff, push-ups, pull-ups. I live I live right next to Carver. I can look at it right now out my door, but I can't go in there. So, it's hard, but we make do, and we make sure that we're maintaining and staying healthy. It's all we can do. That and a lot of mental stuff, just staying positive and not focusing on things you can't control. There are things you can control. And being positive is one. It's just tough. It's easy to be negative and hate on the NCAA or the people that made a decision, but ultimately, these are unprecedented times and people know better than I do. I just wanted to compete so I was disappointed, but you have those that know better than you, so you move on and focus on what you can control
HENDERSON: What about academically moving to the online classes you mentioned? You have a French test this afternoon. How are you adapting to the online classes and working through the new process, whether it's tutoring, things like that?
LEE: It's a little hard because we have a lot of Zoom meetings. Last Tuesday I remember vividly because I had six in a row. I had to meet with three different school partners, had to Zoom with the teacher, than another project, and so on. I was on from two o'clock to seven. My friend then wanted to play video games and I just needed a break. So, it's a little different, it's a lot more on your own. You're not going to class. You don't have a schedule unless the teacher has a zoom meeting where they tell you to go on at a certain time. But as long as you can plan; I have a big calendar that I have to write on because I'm a guy that when I see it, I can remember and make sure I get it done ahead of time. It is a lot about time management. It is a little different than when you're in class with teachers telling you every day. (They are not) going to email everyone over and over and over again. They have a lot of work. It's just hard for the teachers too, and we get that.
HENDERSON: You had it was a remarkable season that we all had a lot of fun watching. Carver was electric so many times, can you pick out a few moments? It does not have to be specifically yours. Any match in general, some memories of the season in Carver-Hawkeye Arena?
LEE: I think the memories that I remember personally are senior Pat Lugo against Oklahoma State on senior night. He had a guy who at one time was the number one guy in the country, and he goes out and pins the guy, just kind of like throws him to his back. We were all expecting a barn burner, a hard fought match, and he pins the guy. The crowd was loud and electric. Then the next one was probably Michael Kemerer beating the three-time national finalist, national champion Mark Hall from Penn State. He went out there and put it on him. Every time he scored it was deafening in there. And there's a picture of me screaming and my veins popping because I was so into it. It's just like a brotherhood. He's my brother, you know, and I want him to win more than anything. I didn't want to miss any of those matches. It was awesome. We averaged 12,500 a dual meet. We broke the wrestling (attendance) record, and it's a tribute to our fans. The following that we have is crazy. That match was so loud; as loud as Carver has ever been. I went to Carver my eighth grade year when we beat Penn State and Ramos pinned Jimmy Gulibon, who was from my club, but Ramos pinned him, and I remember not being able to hear myself.
HENDERSON: I think we can all agree some of the fun moments outside of what we see on the mat are over in the bench area. That culture that you have, clearly, you're a family, all of you. How does that start and what goes into that?
LEE: Well, it wasn't just like one year we all became family. I attribute it to the seniors this year and last year coming in and changing the culture. This is a family and a team, we're all about each other. We want everyone to succeed to be the best that they can be, whether they're starting or not. I was most disappointed for this year for the seniors. We had 10 seniors that weren't starting on our team, but they're the ones that helped change the initiative about us. We had a bad rap for a while, and they helped change that. They helped train us. They were partners. They helped bring me up positively, and they don't get national championship rings. And that to me, that was the most disappointing thing. Because they helped create this brotherhood, even if you're not a starter, they were there every day. They're working every day. They were training like they were starting. They're making weight. It was just how they are, how they think, the mentality that Tom and Terry, Morningstar and Telford, and what they put into us. I'm just so impressed with the way they are, and I know all of them are going to be very successful, because one, they came out of the University of Iowa, and two, they came out of that room. And I know for a fact that they're going to do great things."
HENDERSON: We have 650 student-athletes, but when you look over the course of this year, the images of you and Tristan, and then you go to just think about the winter Gary mentioned, the Big Ten Wrestler of the Year yourself. Big Ten men's basketball player in Luka, women's basketball and Kathleen. So many sports, the athletes, we have some of the best athletes in the country on this campus, how do you interact and how do they push each other?
LEE: I think when there are successful athletes on campus, other people are drawn to that. And we've had one of the most successful years I've ever seen in Iowa athletics. So, it was kind of disappointing that that wasn't able to be put into fruition. But seeing Garza win Player of the Year, like one of the six that he got, was cool. I don't want to say Iowa is known as a wrestling school, I want to be known as one of the best athletic institutions in the nation. And we're getting there. My girlfriend say, 'Oh, you guys are known for wrestling,' but you name those names, and there's more. We're just such a good academic and athletic institution that it's a place where you're proud to go to and where you go to every single game and match. I made sure to go to the basketball games this year because I wanted to watch them play. Megan Gustafson last year, I wanted to watch her play. Because they're so good at what they do. I have been to track meets, field hockey events, everything. I try to get to as much as I can because it's nice to be around athletes with the same mentality. They want to be the best in their sport like just like you. We go to the same university; we bleed black and gold. So, to me it's an honor to be around them.
HENDERSON: A couple of more last questions for that have come up: community service. A lot of our athletes are involved in community service. What are some of the things that the wrestling program is involved in from a community service standpoint? Or where are you trying to find ways to get out?
LEE: I'm an ISAAC rep, so I get a look firsthand about what we do through the helper-helper app. A big thing for us is Day of Caring. We send a lot of guys there. That's our big one. But there are a lot of opportunities on campus. Talk to (Andy) Winkelman, Liz Tovar, or whoever, and they'll make sure that there are opportunities for you. Whether you want to intern, you want to volunteer, you want to just be around kids. We work with Dance Marathon. There are just so many opportunities for students and student-athletes to volunteer if you just know where to find the resources. I've been to a lot of events, and I wish I did more. I'm always focused on wrestling, but there are things that I could do better. That's on me, but it's pretty easy to find a way to volunteer if you just you know who to ask.
HENDERSON: I think you do a great job, and all of our student-athletes do a wonderful job with it. Another question, who are the three most inspirational people in your life?
LEE: Terry Brands is definitely the most inspirational to me. It's because I know how hard he worked as an athlete and how hard he works as a coach every day. My father, first for all the sacrifices that he made to (mold) me as a human being, as the person and athlete and student that I am. And the third would be my coach. He was my mentor, my club coach, and his name is Jody Strittmatter. He's actually a Hawkeye alum. He's a two time Big Ten champion, national finalist, two-time All-American. He was kind of the guy that, because you know sometimes kids they stop listening to their dads or parents a little bit, he was relaying the same message my father would, but he was a different person saying it, so you kind of listen a little more. They all had different roles. Jody was a mentor. Terry, he's like a father figure. And my dad, obviously, he's my father. They just had different roles. My dad was the one that wanted me to be a good speaker. Jody was the one that encouraged me to be who I was on and off the mat. How to how to interact with kids and how to coach. My dad was the one that made the sacrifice. He did everything he could for me to be successful, and I wouldn't be where I am today without my parents. My mom's in there too, but my dad was the one that drove me everywhere. He drove me Monday, Tuesday, Wednesday, Thursday, Sunday. Two hours, just to get partners so I could train with someone and train under a coach like Jody Strittmatter. Those are the three. Those are definitely the three most influential people in my life. Absolutely.
HENDERSON: Great answer. What about making weight, that is something that everybody is curious about. How difficult can that be?
LEE: I'm a little different, and the guys on my team would laugh. I'm kind of small, so I really only weigh like 127, 128. My weight class is 125 and we lose three to five pounds a workout. So, I make weight pretty easy. But the thing is, if you're not dedicated and you're not living the right lifestyle, your weight can fluctuate. And if your weight is fluctuating, and you're not keeping it consistent, then your wrestling will also look like that. You'll get tired. Your legs might be more tired because you had to run more, or you didn't eat the right things. You get in what you get out. So, if you eat good foods, you're going to get good out. That's what my dad would always tell me when I was younger. So, I'm very consistent. I like to do the same things pretty much every day. I eat the same things every day. I have a two egg omelet on a bagel for a breakfast/lunch, and then dinner: chicken, pasta, rice, broccoli. The hardest part about making weight every week in college is that every single week you make weight: Friday, Saturday, Sunday, whatever it might be. And the next thing you know, you have to do it again the next week. All while you're training, while you're peaking, while you're trying to stay healthy, while you're doing schoolwork. Sometimes you see kids in class eating things and, if you're really cutting, it might make some guys mad because they want to do that, but as long as you're dedicated, you're still going to be eating well. You're still doing everything right and you shouldn't be like starving or dehydrated during the week. You should be able to eat well and drink as much as you want and still move weight correctly. A lot of guys do it the wrong way.
HENDERSON: There's a great video of you and President Harreld on a CAMBUS. How did that come about?
LEE: I met President Harreld at the Iowa State Capitol when I was honored for winning my first national title. I got to talk to him, and I thought he was such a high mentality individual that I just wanted to keep talking to him. I want to learn from him. I guess he liked talking to me too, because when Terry said I should talk to him, just a video of just us talking, it was cool because he accepted the invitation. I was pretty excited. When I was actually talking, I did sometimes I forget I was on the mic because it was so comfortable. We talked for an hour and a half. It was pretty cool to hear from him and his experiences, talking about athletics, and he knows how tough it is to be a student-athlete. And it's tough for him. He's the president of university. He obviously had a lot of hardships, and he had to work hard to get to where he is. I just wanted to learn how I could better myself off the mat as well. It was a pretty awesome opportunity.
HENDERSON: So, what are your plans? The Olympics have been pushed back. You mentioned you're in a little bit of a break, trying to train on your own, how you ramp up and what's your future look like? Obviously competing for the Hawkeye still, but what does the future of Spencer Lee look like?
LEE: Well, I think we're going to try and get me another semester. There are a lot of things going into that. I have a lot of time. So, I'm not really worried about that. But I am going to compete next year for the Hawkeyes. I don't want an Olympic redshirt. I want to wrestle to win a national title for me and my teammates, as a team. And then after that, I want to coach and compete at the Olympics. I want to compete for three cycles, so 2020, 2024, 2028 — Tokyo, Paris, L.A. — those are three Olympics that I want to go to. I want to wrestle for about seven, eight more years with the Hawkeye Wrestling Club. After I do that, I want to coach. Whether it's here or whoever hires me, that's what I want to do. I want to coach and help athletes achieve their goals. I want them to achieve their goals, like the coaches and mentors that helped me achieve mine. I want to consider athletics administration. Maybe I'll get my master's degree in this next eight years and compete as long as I can, and hopefully become a coach somewhere.
HENDERSON: Spencer I know everyone on this call knows that whatever you set out to do you're going to accomplish, because that's how you're wired. Great having you on this call, I truly appreciate your participation and wish you the best of luck. Any parting thoughts with the group before you have to go on and study for your French test?
LEE: Thank you for supporting me and helping me be the athlete and student that I am. From the whole university and the athletic program as a whole, we would not be who we are without you, and I wouldn't be who I am. I am thankful. Thank you very much, and thanks for having me. This was fun.