By DARREN MILLER
hawkeyesports.com
IOWA CITY, Iowa — It's Chauncey Golston's turn to continue the "leaders creating leaders" exercise that has served University of Iowa football so well in the past.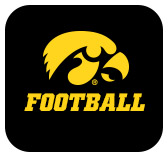 A 6-foot-5, 270-pound defensive end from Detroit, Golston is the lone returning starter on the Hawkeye defensive line. Last season, the honorable-mention All-Big Ten performer was second on the team with 9.5 tackles for loss and eighth with 47 tackles.
"When you get to the University of Iowa, it's about growing up and leaders creating other leaders," Golston said Thursday on a Zoom news conference. "The guys who came before and our coaching staff have helped me. I'm ready for the added level."
There has been no shortage of role models for Golston: Jaleel Johnson, Parker Hesse, Anthony Nelson, A.J. Epenesa, Cedrick Lattimore. Oh yeah, all five of those Hawkeyes are in the NFL. The biggest lesson Golston learned? If you're going to talk the talk, you have to walk the walk.
"No matter what you say, if there isn't action behind it, then it is just an empty statement," he said.
Last season, Iowa finished 10-3 and ranked 16th in the nation after a 49-24 win over Southern California in the Holiday Bowl. Golston made his 13th start of the season at left defensive end in the bowl game, making three tackles, a tackle for loss, pass breakup, and sack. The other starters on the defensive line were Epenesa, Lattimore, and Brady Reiff.
The Hawkeyes boasted the fifth-best scoring defense in the nation (allowing 14 points per game); they were 12th in total defense (308.2 yards per game). Golston might be the only returning starter on the defensive line, but he says watch out for senior Austin Schulte, junior Daviyon Nixon, and sophomore Noah Shannon.
Because of the coronavirus pandemic, student-athletes have been required to find creative ways to improve from home. Golston remains in Iowa City with a squat rack in his garage. He has tried to conduct cardiovascular workouts at area high schools and parks.
"I want to get (back) as soon as possible," Golston said. "Sometimes you wake up and without having a structured day, you're like, do I actually want to go downstairs to my garage and lift? Yeah, I'm going to do it, but when I'm in the facility, there is no asking myself that question. I want to get back in there and I want to be around my teammates again."
Golston understands that every other football player in the nation is experiencing similar challenges. Even that serves as motivation.
"When you get to the University of Iowa, it's about growing up and leaders creating other leaders."

UI senior defensive end Chauncey Golston
"Whoever attacks it best is going to come out on top. It is added incentive," Golston said. "Even though we are coming off a pandemic, we want to have a great 2020 season."
Golston agrees with head coach Kirk Ferentz that six weeks of preparation would be ideal before starting a season. Through the months, weeks, and days of quarantine, he has learned to tackle challenges head-on and keep his distance from distractions.
"It is the little things in times like this," Golston said. "You can come out on top if you attack them by going as hard as you can."
Student-athletes and fans want football to return and Golston is no exception. But he wants the return to be done properly.
"I want to be back, but I don't want to be rushed back," he said. "You want stuff to take care of itself the right way with time."