By JAMES ALLAN
hawkeyesports.com
IOWA CITY, Iowa — University of Iowa head coach Fran McCaffery has plenty of experience to fall back on with the coronavirus pandemic crippling preparations for a "normal" 2020-21 college basketball season.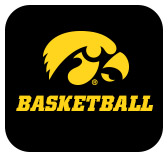 National Player of the Year Luka Garza and four other starters return and the Hawkeyes will have the services of guard Jordan Bohannon and forwards Jack Nunge and Patrick McCaffery. Iowa adds to its depth with five freshmen.
"I like the idea we have a veteran club," said McCaffery during a Tuesday Zoom news conference. "With the circumstances we'll face, experience will be the ultimate thing you want, but you could lose three veteran guys in a week or one in each game (because of the virus).
"Maybe it's better to be the deepest team. Maybe the best ability is availability in terms of who's playing this week."
That's why McCaffery is in continual communication with the Hawkeye student-athletes about staying together during these challenging times.
"(We're telling the guys) let's be smart, get tested and have discussions with physicians and trainers," said McCaffery. "Let's have discussions about where we go and who we're associated with so we can do what we love to do."
McCaffery says even amidst the constant coronavirus talk, the Hawkeyes are cognizant of the team's lofty preseason expectations, where the program is ranked in the top five and mentioned as a potential Final Four participant.
"When you look at expectations from the outside, I look at it as what does our team expect of themselves individually and collectively," said McCaffery. "That won't change regardless of what the media, a magazine or a sport commentator might say.
"We have to be connected as a group every day until the season is over. We have to be aware of everything around us if we want to have the experience we all hope we can have."
Injured Hawks? Newcomers?
"CJ (Fredrick) looks good, Jack (Nunge) has not been cleared for full activity, but he does a lot and looks good. The young guys have been impressive. They provide something different and when you have a class of five, you want skill sets that complement each other. They all have performed well."
Going from Good to Great
"We have to improve defensively. Rebounding we were plus-five (last year), and we want to rebound better. That will help our defense and trigger our break. Last year we didn't have a deep club, especially with CJ out and Cordell (Pemsl) limited. They were comfortable with their role and played well, but more depth enables you to be more physical defensively.
"This team recognizes it has more weapons than last year. We're not going to deviate from that; we have special guys and they have accomplished great things already. They'll be out there a good portion of the time, especially getting Jack, Patrick and Jordan back. I am comfortable with anybody on our roster playing right now."
Potential Schedule
"The only thing I can say is we'll play 27 games and host our own multi-team event. I feel good about the ACC/Big Ten Challenge, Iowa State, and have had other discussions. We are looking at a lot of options. There are a lot of moving parts and a lot of discussion. There is no way we could pin down things right now."
What about Luka?
Nearly 34 minutes passed during the Zoom call before McCaffery was asked about Garza in the final question of the media session.
"His role will be similar, but he will be more versatile. I think he will make a few more 3s, put it on the deck more, make a few more plays off the dribble. We'll still throw it to him in post, and he's a guy that could lead league in rebounding.
"Do we spread our offense because of all of our weapons? That's a possibility, but it could also come from his passing. You know he'll see 3-4 defenses in each game. He's a guy that feels how to make plays for his teammates. He might average a point less, but have a substantially better year because all he cares about is winning.
"He has put the time in and has not rested on his accomplishments. He's hungrier than he has ever been and there is no better example for these young guys than Luka Garza."