By JAMES ALLAN
hawkeyesports.com
IOWA CITY, Iowa – Defensive coordinator Phil Parker opened the coach segment of University of Iowa football media days Thursday talking about how excited he is to be back in a routine and head coach Kirk Ferentz rounded out the day — one that featured 12 members of Hawkeye coaching staff.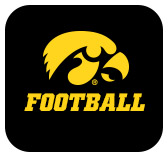 Here are tidbits from media day session that was held in the Ted Pacha Family Club inside Kinnick Stadium:
Defensive Coordinator Phil Parker
The Strength
"Our strength of our team is our linebackers. Even with the opt out of Djimon (Colbert), the linebackers are our strength. The defensive line is also a positive the last couple of weeks. We have to fill some holes in back end, but Dane Belton is back, and Jack Koerner has done a good job. When you're looking at depth with Riley Moss and Matt Hankins with all the football they've played.
"As a whole, as a coach, you never think you're where you should be, but I think we're moving in the right direction and we're looking forward to next week for the game week and Purdue."
Eye Test & Work Ethic
"Walking on the field, looking at the size of (the linebackers) and how they can move. It's their work ethic and understanding the game of football. To have two guys – Nick (Niemann) and Jack (Campbell) – with their length and they enjoy the game of football. They are committed to the game and I am excited about what they can do."
Creating Pressure
"Chauncey (Gholston) has done a good job and is progressing to be a good pass rusher. (Daviyon) Nixon is a big guy that can move and can hurt you inside. We can try to put in other guys on the edge in sub packages.
"We're always going to adapt. Having a guy like A.J. (Epenesa), he's a guy we're going to miss. If we have to put an extra linebacker on the edge (to create pressure), we've done it before, but I don't think we'll change our philosophy saying we're going to be more of a blitz team.
"We've always been the last 20+ years I have been here — I take that back in 1999 and 2000 we were blitzaholics — then we changed the process. We have to stop run, don't give up big plays, and be good in the red zone. The most important stat is how many points are you giving up."
Let's go live
"We had a little yesterday, the intensity picked up and it was good to see these guys actually tackle. You can go out and play 7-on-7 and go through things. If you're not taking the guys to the ground, did you get the first down on third-and-1? The offensive guys always say they got it and the defensive guys say they didn't. It's nice to go out and tackle and it comes down to results. Either you did it or you did not. It was good for our team to figure it out."
"We have capable ball handlers that can make plays in space like that and the most important thing is you can put them in those positions. That needs to be a bigger part of our offense moving forward is being able to stretch the field quickly on the snap."

Brian Ferentz on attacking the edge
Assistant Defensive Coordinator/Linebackers Coach Seth Wallace
Senior Leadership
"It's a good group and we're relying on the experience and leadership of our seniors Nick Niemann and Barrington Wade. They are both doing a good job. Barrington has solidified himself in multiple roles. It's a group that there is a lot to be excited about."
Defensive line coach Kelvin Bell
An Iowa Fit
(Northern Illinois transfer Jack Keflin) is a fit for Iowa. He's a team-first guy. The scheme is a little bit different. There are some technical things he needs to improve at, but in terms of understanding what it means to be a good teammate and a guy that has 31 starts and has size to him, he understands what it takes to play winning football."
8-10 Deep?
"I don't want to put guys out there where I want to turn around and not watch. We're trying to develop guys. If I had confidence in 8-10 guys, that would be great, and there are some possibilities, but guys are going to continue to develop and earn there way on the field as the season goes along. Hopefully by Minnesota or Wisconsin there are 10 ready."
Assistant Defensive line coach Jay Niemann
Getting After the QB
"(Our pass rush) is a work in progress. We'll challenge them to get better. It's going to be by committee, no one can go out and duplicate what A.J. (Epenesa) did. If they can, that will be great and we'll take full advantage of it, but there is going to have to be a handful of guys that show up."
Offensive Coordinator Brian Ferentz
Dynamic Depth
"The depth at running back is dynamic. I am cautiously excited about that position. We have three good guys, starting with Mekhi (Sargent). I am impressed with his leadership and he's improving at a high level. Tyler (Goodson) became a focal point of our offense (last year), he improved and continues to improve and Ivory — the last time you saw him was in Ames (last year)."
Getting to the Edge
"We had a lot of perimeter stuff in the package and used it from time-to-time. Going into the Holiday Bowl, that was the recurring theme, (USC) had issues containing those runs. We wanted to test them and see if we could have success.
"I had to make an evolution in my mind. Those are always secondary plays; they protect the inside runs. I am not sure I see it the same way anymore. We have capable ball handlers that can make plays in space like that and the most important thing is you can put them in those positions. That needs to be a bigger part of our offense moving forward is being able to stretch the field quickly on the snap."
Spencer vs. Nate
"Spencer (Petras) and Nate (Stanley) are very different. The first characteristic of true leadership is being yourself. You can't be someone you're not or emulate their leadership style. Spencer is more gregarious and outgoing; Nate is quiet. Spencer is similar to Nate in that he is actively building relationships with his teammates and actively working to improve with receivers and tight ends.
Having a Command
"We know (Spencer) can operate the offense. We feel good about his physical skill set and he can throw the ball. It starts with having command of offense and keeping us out of bad plays. Can we throw it around like we did last year? I don't know, Nate Stanley is in the NFL. (Spencer) is going to have to go out and prove that. He has an advantage over Nate's first year, not only from a personnel standpoint, but from a system base."
Running backs coach Derrick Foster
Goodson's Next Step
"I expect him to improve. That sounds cliché, but you're always looking for ways to improve. What I told him is last year is over, you're not a freshman anymore, you're a sophomore, you're an older player and you have game experience. I look forward you to you believing it and understanding this offense.
"What has happened is he has been able to slow the game down, understand what we do, especially as an offense, and apply it to his ability."
Mano-e-mano… Good Luck
"It's hard to tackle (Tyer) Goodson and (Ivory) Kelly-Martin 1-on-1. That's where they gain an advantage. If you get them in a box in a 1-on-1, it's hard to wrap them up and tackle them. They're tough runners and they have to be smart, and these three have embraced that moving forward."
Wide receivers coach Kelton Copeland
ISM, Nico, Tyrone, Brandon and…
"The cat is out of the bag on Charlie Jones. He's a newcomer that came over and transferred from Buffalo. We're fortunate to have him. He's done some promising things in practice.
"There are a lot of guys… Desmond Hutson, Quavon Mathews. I can talk to you about younger guys and potential, but potential is one thing, it's all about production. It's one thing to name every guy in the room, but it doesn't matter until he does it on the field."
Offensive line coach Tim Polasek
Getting guys up to speed
"We're sprinting right now. It's a race to maturity to see how many guys we can get ready to go to move some people in the run game and stop some people in the pass game."
It starts with Tyler (Linderbaum)
"He's tough as nails and really cares. His conceptual understanding of our system and sees flexible things up front and how we can take advantage of that is exciting. He will improve from that standpoint and the rest of the group will share some of that because of his knowledge inside out."
A new experience
"I don't think I have coached a vegan before. (Alaric Jackson) no longer appreciates my pictures of meat and the jerky I smoke. (Alaric) is quicker, more sudden, and I see a change in the morning, he has more energy. He's doing a good job and has had a good start to the 2020 season."
The other tackle is hungry
(Indiana transfer Coy Cronk) from a character standpoint, you'd think he was a sophomore ready to break through, that's how coachable he is. He is eager for football in general and I appreciate that. He's trying to do it our way with the technique and system. He's meeting these challenges head on. "
Special teams coordinator LeVar Woods
Upping the Punt (Return) Game
"That's one of the phases we need to pick up a little bit. That's a phase we have worked on to improve on. Max (Cooper) and Nico (Ragaini) have been back as returners, Ihmir (Smith-Marsette) has been working back there hard and diligently and Charlie Jones. Those are the four… the job is still wide open."
How can ISM be better in the kick return game?
"What Ihmir (Smith-Marsette) can do is be more consistent with how he fields the ball and more technically. In regards to returning, being in a position. He can make a coach look good. Moving forward we want him to have more consistency in the average return."