IOWA CITY, Iowa — Thursday began a new chapter for the University of Iowa women's soccer program. On a beautiful fall day, the student-athletes and coaches officially broke ground on its new state-of-the-art soccer operations facility at the Iowa Soccer Complex.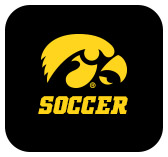 Everyone associated with the program is incredibly grateful to the donors and administration for making this dream a reality.
"This building represents a functional purpose for our student-athletes," said head coach Dave DiIanni. "This is truly a student-athlete led building, all the way to how we designed it. This facility allows us to continue to compete within the Big Ten and nationally for future student-athletes."
Henry B. and Patricia B. Tippie Director of Athletics Chair Gary Barta was at the complex to help celebrate the ground breaking.
"This is an exciting day for Hawkeye soccer," said Barta. "Coach Dilanni has had this vision for a while. And as we always say, a vision without resources is irrelevant. Well, during a very difficult financial time, we have some donors who have stepped up and it is because of them that we are able to do this for the women in the program."
Junior captains Hailey Rydberg and Riley Whitaker are beyond excited for what this addition means for the program moving forward.
"This building is going to help us so much," Rydberg said. "Having everything in one place will make a big difference. It is so nice knowing that there are people who care about the program as much as we do."
"This facility will give us a common area where everyone will be able to come together," said Whitaker. "We will be able to train, meet with coaches, watch film, eat, and bond as a team all in one place. The support we have received for this facility is amazing and we are incredibly thankful."
With the Hawkeyes' season postponed until the spring, today was an uplifting moment giving everyone something to look forward to.
"Holding the shovel today made this feel real," DiIanni said. "Allowing our team an opportunity to celebrate this project, especially with how the fall has gone, is a huge moment for our program. This is a special day and we are all incredibly excited."