IOWA CITY, Iowa — The Black team swept the 200-freestyle relay to win University of Iowa swimming and diving team's annual Black & Gold Intrasquad Meet, 115-101, on Saturday morning at the Campus Recreation and Wellness Center.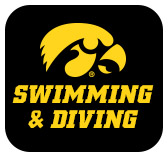 With the score tied at 101 heading into the final event of the meet, the women's relay consisting of Kelsey Drake, Macy Rink, Maddie Black, and Kennedy Gilbertson posted a winning time of 1:33.66. The men's relay of Aleksey Tarasenko, Mateusz Arndt, Will Myhre, and DJ Rogers put an exclamation point on the black win, posting a time of 1:22.86.
The Gold team started the meet off with a sweep when Julia Koluch, Zoe Mekus, Alexa Puccini, and Sarah Schemmel touched first in the 200-medley relay in 1:43.54. The men's relay of Ryan Purdy, Daniel Swanepoel, Seth Miller, and Drew Harris won the men's race in 1:29.34, giving the Gold team a 14-0 lead.
The Black team also got victories from Rink in the 200 free (1:49.60) and 500 free (4:58.05), Arndt in the 200 free (1:37.58) and 500 free (4:27.62), Maddie Ziegert in the 50 free (23.93), Mallory Jump in 200 IM (2:01.74 and 100 fly (53.94), Tarasenko in 100 free (44.38), Aleksanda Olesiak in 100 breast (1:03.56), Myhre in 100 breast (54.34), and Sam Tamborski in diving.
The Gold squad got wins from Seth Miller in the 50 free (20.60), Anze Fers Erzen in the 200 IM (1:50.85), Jonatan Posligua in diving (91.00), Lauren McDougall in the 100 free (51.25), Julia Koluch in the 100 back (56.41), and Purdy in the 100 back (48.42) and 100 fly (48.90).
Freshman Sarah Ballard sprinted to a win in the diver 50 free in 30.04, while Michael Huebner won the men's diver 50 free in 25.56. Manager Jon Titlbaum got the final Gold win, during the manager goggle toss to even the score at 101.
The Hawkeyes' 2020-21 schedule will be released when available.