By SHANE STURTZ
hawkeyesports.com
IOWA CITY, Iowa — The last time Iowa dropped its season opener was 2013. Jake Rudock was quarterbacking. Black and Gold packed the stands at Kinnick Stadium. The Wave wasn't even born yet.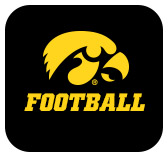 The last time Iowa faced Northwestern at home was in a defensive battle in 2018. The Wildcats left Iowa City with a 14-10 win to clinch the Big Ten West Division title. Iowa won last year's meeting in Evanston with a dominant 20-0 win to improve to 6-2. Last season culminated in an impressive 49-24 victory over USC in the Holiday Bowl.
But times are different. Way different. And tomorrow's home opener is no exception.
"I have no idea how it's going to feel," said Levar Woods, special teams coordinator. "It's going to be different. It's not going to be 69,250 screaming fans. It's not going to be that."
Fans, no fans, or cardboard cutouts in the stands, Iowa has its hands full with a 1-0 Northwestern team who played a nearly flawless game in its 43-3 season-opening win over Maryland, out-gaining the Terrapins, 537-207.
"Northwestern is a good opponent," Woods said. "Every year they are. This year's no different. They're well coached and play hard. They're a physical team and we need to match that and exceed that to be successful."
Despite dropping game one in the final minutes, Iowa's physicality and effort was there. It was a few too many costly mistakes and miscues that were too much to overcome.
Quarterback Spencer Petras overcame a slow start against Purdue, passing for 265 yards — the most by a Hawkeye QB in his first career start since 2000 — and leading the offense to 460 yards — the most yards of total offense by the Hawkeyes in a Big Ten game since 2018.
Career firsts were also a theme for the special teams unit.
Freshman punter and Australian Tory Taylor averaged 44.2 yards on six punts, including a 52-yard boot downed at the one-yard line. His long snapper, fifth-year senior Austin Spiewak, played in his first career game against Purdue.
"Both those guys performed well, played well, and tried to help their team win," Woods said. "We are excited about that, about the team in general and the direction it is going. I'm happy with the way special teams is trending. There's a lot of work to do. There's a lot of young guys playing that have to pick it up and improve a little bit. If we do that, we'll be happy with the results."
Not to be forgotten is senior Ihmir Smith-Marsette, the best return man in Big Ten history by the numbers, and consensus All-American senior kicker Keith Duncan.
"Anytime you have Ihmir back there in kick returns, he's a threat to score every time he touches the ball," Woods said. "Most opponents know that. Our other returner, Ivory Kelly-Martin, is also a threat to go the distance. Having those two guys back there working together feels good.
Duncan, a 2019 Lou Groza Award finalist, drilled his first two field goals of the season from 27 and 33 yards. Duncan and his kicking mate, Caleb Shudak, have been working together since stepping on campus and this season is no different.
"It's fun having those guys there," Woods said. "They work well together. They're both exceptional young men and exceptionally good kickers. We're fortunate to have both of them here."
Saturday's home opener against Northwestern will kickoff at 2:30 p.m. (CT).  The game will be televised on ESPN.