IOWA CITY, Iowa — The University of Iowa men's track and field team is ranked ninth in the United States Track & Field and Cross Country Association preseason poll released Monday. The preseason ranking is the highest in program history.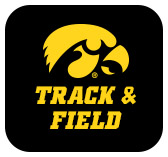 The Hawkeyes, ranked No. 1 in the Midwest Region, are led by juniors Wayne Lawrence, Jr., and Jamal Britt. Lawrence, the reigning Big Ten champion in the 200, 400, and 4×400-meter relay, is currently ranked fifth in the nation in the 400 meters with a time of 46.28. Britt is currently ranked first in the Big Ten and second in the nation with a 60-meter hurdle time of 7.70. Both men are a part of the 4×400 meter relay that is currently ranked No. 1 in the Big Ten and 11th in the nation.
The Iowa women's track and field team is ranked fifth in the Midwest Region by the USTFCCCA. The women are led by senior Mallory King, senior Dallyssa Huggins and freshman Paige Magee.
King ranks first in the Big Ten in the 800 (2:06.1) and second in the 600 (1:29.47). Huggins ranks third in the high jump (1.73m, 5-8) and Magee ranks third in the 60-meter hurdles (8.41).
The 2021 NCAA Division I Indoor Track & Field Championships will be held March 11-13 at the Randal Tyson Track Center in Fayetteville, Arkansas.