By JAMES ALLAN
hawkeyesports.com
IOWA CITY, Iowa – Luka Garza and Joe Wieskamp were double trouble for the 15th-ranked University of Iowa men's basketball team Wednesday night inside Carver-Hawkeye Arena.
The 1-2 Hawkeye punch both posted double-doubles to lead Iowa to a 79-66 victory over 25th-ranked Rutgers. The win was Iowa's 14th victory of the season and it completed the season sweep of the Scarlet Knights.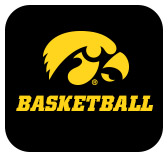 Wieskamp scored nearly half of Iowa's 34 first-half points (he had 16) in helping Iowa build a 34-25 lead. The forward finished with a season and game-high 26 points, making 9-of-14 field goals, including five 3s. He pulled in 10 rebounds to record his third double-double of the season.
"It was one of those complete performances," said head coach Fran McCaffery of Wieskamp's night. "He made shots when we needed them, he rebounded, he defended, and didn't make mistakes. He was special tonight, no question."
Garza overcame an 8-for-20 shooting night to finish with 22 points and he hauled in 10 rebounds to post his ninth double-double. Senior Jordan Bohannon finished with 12 points and seven assists, while Keegan Murray scored 10 points and had six rebounds off the bench.
Wieskamp came out scorching, scoring 13 of Iowa's first 15 points in helping Iowa jump out to a 15-9 lead. Iowa pushed its lead to 11 on a Garza hook at the eight-minute mark and led by as many as 13 (24-11) before taking a 34-25 into the break.
Iowa's lead went from nine to 14 over the first 3 1/2 minutes of the second half and the lead was 11 (54-43) with 10:21 to play. Rutgers trimmed the deficit to 54-48 on a Paul Mulcahy 3-pointer and a Ron Harper layup before back-to-back Garza layups pushed the lead to 58-48.  After Harper, Jr., hit a step-back jumper on the next Scarlet Knight possession to get it to eight, Wieskamp followed with a big-time 3 coming out of a timeout to push it to 11 with 7:24 left.
Rutgers never got any closer than nine points the rest of the way.
The Scarlet Knights finished with a higher shooting percentage (43.8 to 43.3), but Iowa made 11 3-pointers to Rutgers six. The Scarlet Knights went just 6-of-28 from 3-point range. The Hawkeyes out-rebounded Rutgers, 42-31, and Iowa assisted on 20 of its 26 field goals.
Geo Baker led Rutgers with 11 points, five rebounds, and five assists.
QUOTING HEAD COACH FRAN MCCAFFERY
"We ran good offense and at times we looked as we were discombobulated. The X is on the O, they're in your space and are going to be challenging the next pass. You have to keep your dribble and it doesn't look as smooth. What we did was move the ball side-to-side and in-and-out and got the ball to the right people."
CJ'S BACK
Sophomore CJ Fredrick returned to the starting lineup and logged 17 minutes after missing parts of the last six games with a lower leg injury. The guard didn't find the scoring column, but he finished with three assists, including back-to-back finds to Garza in the second half.
"The last couple weeks have been frustrating for me as a player," said Fredrick. "The last couple of weeks I haven't been able to be myself. I thought I did everything I could out there today, and I felt good after the game."
OF NOTE
• Tonight's victory was Iowa's NCAA-best fifth against an AP Top 25 opponent this season. The Hawkeyes have won nine of its last 10 against ranked opponents at home, dating back to last season.
• Both Luka Garza and Joe Wieskamp recorded double-doubles, the ninth and third, respectively of the season for the Hawkeye duo. It marks the second game this season the tandem posted double-doubles in the same game (Indiana, Jan. 21).
• Luka Garza netted his 500th point of the season in the second half. The All-American finished the game with 22 points and 10 rebounds.
• Joe Wieskamp totaled a game and season-best 26 points; he also snagged 10 defensive rebounds. He has grabbed eight or more defensive rebounds in four of the last six outings. Wieskamp topped 20 points for the fourth time this season and 14th time in his career.
• Wieskamp, who ranks 10th in career 3-pointers at Iowa, equaled a season best with five treys, marking the sixth time in eight games the junior has made three 3-pointers or more.
• Guard CJ Fredrick returned to the starting lineup, playing 17 minutes.
• Rutgers' 25 points first-half points are a season low for an Iowa opponent this season.
• Iowa improved to 4-1 against Rutgers in Iowa City.
UP NEXT
Iowa hits the road for its next contest at Michigan State on Saturday. Tipoff is slated for 1:37 p.m. (CT) at the Breslin Center in East Lansing, Michigan. The game will be televised nationally on FOX.