ROUND ROCK, Texas – No. 18/21 Michigan scored the game's final two runs to down the University of Iowa baseball team, 4-2, on Opening Day Saturday at Dell Diamond.
The Hawkeyes rallied from a 2-1 seventh-inning deficit to tie the game at two on a Matthew Sosa RBI double. Senior Zeb Adreon scored after leading off the inning with a one-out single and he stole second to get into scoring position.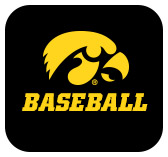 Michigan starter Steven Hajjar shut the door on anything else, striking out Trenton Wallace for the second out before the Wolverines went to the bullpen. Reliever Willie Weiss got out of the inning by striking out Dylan Nedved to end the threat.
Weiss allowed one hit over the final 2 1/3 innings and fanned five to pick up the victory.
The Wolverines started the eighth with a Tito Flores double to left field and he scored on a Christian Molfetta single. Michigan added an insurance run, pushing the lead to 4-2 in the ninth on back-to-back doubles from Flores and Benjamin Sems.
Michigan jumped out to a 2-0 lead in the second on a two-run double from Jake Marti. Iowa cut the lead in half in the bottom half on an RBI double from Sosa, a ball that nearly left the park.
AND WE'RE TIED! CLUTCH SOSA!@matt_sosa5 doubled to LC to tie the game at 2! #Hawkeyes pic.twitter.com/ppQl1Wgb8W

— Iowa Baseball (@UIBaseball) March 7, 2021
Redshirt junior Trenton Wallace was strong in his first career weekend start, scattering three hits and allowing two runs over five innings. He had eight strikeouts in the outing. Junior Ben Beutel (0-1) suffered the loss, allowing one run on three hits and he had three strikeouts over 2 1/3 innings.
Iowa finished with seven hits in the game with senior Austin Martin, Adreon and Sosa collecting multi-hit games. Sosa was 2-for-3 with two doubles and two RBIs.
QUOTING HEAD COACH RICK HELLER (@rheller21)
"I was happy with how the energy, focus and intensity of that game was, but the difference was we didn't play clean enough. We had too many free bases on the mound. There were too many jams we had to fight out of, which we did fight out of.
"Trenton had great stuff tonight, but unfortunately he wasn't very efficient and his pitch count got high. Hajjar had equally as good of stuff, but he was much more efficient and didn't give us any free ones.
"It was a tough loss. The top of our order struggled, which hurt. Matthew Sosa had a big night and played great and the bottom half did a nice job getting on base and making things happen for us and giving us a chance."
OF NOTE
– Freshman Michael Seegers made his first career start. He batted leadoff and played left field.
– Iowa's three pitchers had 13 strikeouts (against six walks) in the game.
– Wallace had a career-high eight strikeouts. He previously had six strikeouts three times with the last coming last season against Georgetown.
– Redshirt freshman Peyton Williams extended his hitting streak to 12 games dating back to last season.
– Adreon's reached base streak extended to 12 games dating back to 2020.
UP NEXT
The Hawkeyes will play a Sunday doubleheader beginning at 2 p.m. (CT). Game one will be a seven-inning game followed by a nine-inning contest.