By SHANE STURTZ
hawkeyesports.com
IOWA CITY, Iowa – The fifth-ranked University of Iowa men's basketball team (20-7, 14-6) held off 25th-ranked Wisconsin (16-11, 10-10) for a 77-73 victory on Sunday inside Carver-Hawkeye Arena.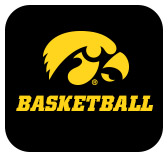 The Hawkeyes relinquished their 12-point, second-half lead, before holding off the Badgers' second-half surge to earn the No. 3 seed in the Big Ten Tournament.
"I'm proud of what we did today and what we've done all season," head coach Fran McCaffery said. "I want them to cherish what they experienced today, enjoy it, and get some rest, but then turn the page to what we have coming in Indianapolis."
On Senior Day, it was freshman Keegan Murray, who made one of the biggest plays of the game. With the game tied at 71 with 46 seconds left, Murray grabbed the offensive rebound on Connor McCaffery's free throw miss on the back end of a 1-and-1 and called timeout before falling out of bounds, giving Iowa an extra possession.
Out of the timeout, senior Jordan Bohannon, who scored all 16 of his points in the second half, converted three free throws after getting foul on a 3-point attempt, giving Iowa a 74-71 advantage with 34 seconds left.  It also was the fifth foul on D'Mitrik Trice.
Murray stepped up again, knocking down two free throws after Wisconsin's Brad Davison was called for a flagrant foul to give Iowa a 76-73 lead with 21 seconds left. The Hawkeyes were able to hold on down the stretch in a second half that featured 24 combined fouls.
"It shows the kind of character we have on this team to pull out that game," Bohannon said. "That was a football game from every aspect – defensive end to offensive end. There was a lot of situations where we were tangled up, but that's Big Ten basketball and gets us ready for what's to come."
Bohannon was one of four Hawkeyes in double figures. Junior Joe Wieskamp scored 12 of Iowa's first 22 points on a perfect 5-of-5 shooting from the floor, with two 3-pointers, before exiting the game with a lower right leg injury at the 8:16 mark of the first half.
Senior Luka Garza nearly had a double-double in the first half with 11 points and nine rebounds and finished with 21 points and 16 rebounds for his 12th double-double of the season and 33rd of his career.
Murray was the fourth Hawkeye in double figures with 13 points on 5-of-6 shooting, along with six rebounds.
Iowa led 35-26 at halftime and held a 12-point lead – its largest of the game – early in the second half, but Wisconsin slowly chipped away. The Badgers used a 19-6 run capped off by a Davison 3-pointer to take a 49-48 lead with 12 minutes remaining. It was their first lead since holding a 7-6 lead in the first half.
Wisconsin's largest lead of the game was four, 69-65, with 2:26 left to play, but the Badgers would go without a field goal in the final 2:26 of the game.
No. 55 INTO THE RAFTERS
Following the conclusion of the game, Henry B. and Patricia B. Tippie Director of Athletics Chair Gary Barta announced Luka Garza's number 55 will be retired after the season and never be worn by an Iowa men's basketball player.
"That moment will be something I remember forever," Garza said. "Time slowed down as I heard those words. It's an honor. I've been so thankful for coach McCaffery for giving me a chance on becoming the best player I could be. I'm so thankful for him, the coaching staff, and my teammates. I wouldn't be anywhere without them. I wouldn't be in this position if I went to any other school. I can't wait to continue going because we're not done yet."
"He immediately broke down as you saw," Fran McCaffery said. "It was a pretty emotional moment for both of us and it is incredibly heartwarming for me to watch what he's accomplished. I remember the first time I saw him. You watch a young guy mature and become a leader. He only cares about winning and ultimately he ends up filling the stat line and becoming recognized individually, which is a great feeling as a coach."
Garza joins eight other former Hawkeyes to have their number retired: Carl Cain (21), Ronnie Lester (12), Bill Logan (31), Sharm Scheuerman (46), Bill Seaberg (22)*, Bill Schoof (33), Greg Stokes (41), and Chris Street (40). B.J. Armstrong's (10) jersey is also retired.
* Seaberg granted Patrick McCaffery permission to wear No. 22 due to a special significance.
OF NOTE
Iowa won its NCAA-best eighth contest against AP Top 25 opponents this season.
Iowa finished the regular season winning seven of its last eight games.
Today was the final home game for Iowa seniors Austin Ash, Michael Baer, Jordan Bohannon, and Luka Garza.
Iowa's 14 conference wins are its highest total in a single season since 1987 (14).
Iowa recorded its seventh Quad 1 victory of this season.
Today was Iowa's 20th overall win of the season. The Hawkeyes reached 20 wins for the seventh time in the nine years
Iowa finished the 20-game Big Ten schedule in third place, marking the eighth time in the last nine seasons Iowa finished in the upper division of the conference. 
UP NEXT
Earning a No. 3 seed in the Big Ten Tournament, Iowa will face the winner of the second round game between the  No. 6 seed and No. 11/14 seed. The Hawkeyes will begin Big Ten Tournament play Friday, March 12 in the quarterfinals.