ROUND ROCK, Texas – No. 22 Michigan put up six runs in the fifth inning en route to an 11-4 victory over the University of Iowa baseball team on Monday afternoon at Dell Diamond. The Wolverines won three of four games in the weekend series.
Michigan led 4-0 through 3 ½ innings, courtesy of a Mazur RBI single in the first and a three-run home run in the third. Iowa put up a four spot in the to tie the game.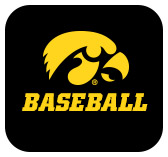 Junior Izaya Fullard had a two-out single to start the rally before the Wolverines loaded the bases on consecutive walks. Senior Zeb Adreon delivered with a three-run double down the left field line before senior Matthew Sosa followed with an RBI single to center field to tie the game.
It continued a hot opening weekend for Sosa, who batted a team-best .500 (6-of-12) with three doubles and five RBIs.
Michigan took command in the sixth with a six-run inning that came on three hits and one Hawkeye error. Tito Flores had an RBI single, Jimmy Obertop walked to force in a run with the bases loaded, and Benjamin Sems singled to make the score 8-4. The final two runs scored on a Bullock sacrifice bunt and the final run scored when Jake Marti reached on a fielding error.
The Wolverines added their final run in the top of the ninth.
Redshirt sophomore Duncan Davitt allowed four runs (all earned) on six hits over 3 1/3 innings in the start, while redshirt junior Hunter Lee was saddled with the loss after surrendering three runs in 2/3 of an inning.
Redshirt junior Ben Probst and senior Trace Hoffman were the only Hawkeye pitchers to toss shutout innings in relief.
Michigan starter Ben Dragani earned the win, tossing 3 1/3 perfect innings with two strikeouts. Four Wolverine pitchers limited Iowa to six hits.
Sosa finished 2-for-4 with an RBI double. The senior hit safely in all four games in the series.
The Hawkeyes (1-3) return to action Friday, facing Ohio State at 11 a.m. (CT) at U.S. Bank Stadium in Minneapolis.