By JAMES ALLAN
hawkeyesports.com
IOWA CITY, Iowa — It's three's company for the University of Iowa women's swimming team in the 200-yard butterfly at the NCAA Championships.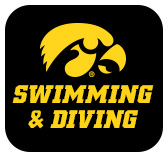 The trio of senior Kelsey Drake, sophomore Mallory Jump, and freshman Alyssa Graves will all compete in the event at the 2021 NCAA Championships from March 17-20 in Greensboro, North Carolina.
Jump and Drake will also swim in the 100-yard butterfly and 200-yard individual medley, while Graves will also compete in the 1,650-yard freestyle.
"Being able to have two other teammates, who I am very fond of, also qualify for the NCAAs is exciting," said Graves, a Hartland, Wisconsin, native. "Together we get to compete in one final meet of the season, while also getting the opportunity to train together for a couple more weeks."
Graves believes the daily and weekly training alongside one another at the Campus Recreation and Wellness Center is what pushed the trio to the NCAAs.
"It was great to get help from girls who are successful and work as hard as they do," said Graves. "I look up to them both as role models, not only in the pool, but also in everyday life. My team and coaches are people who helped me reach my goals, and I couldn't have done it without them."
Jump, a transfer from Purdue University, says having training partners like Graves and Drake was a game-changer in her growth as a sophomore.
"The training plan for this year has helped me grow and even learn as an athlete," said Jump. "Having Kelsey and Alyssa as partners has made it that much better. We push each other so much in practice and at meets."
Jump set the school record in the 100 fly at the Big Ten Championships, swimming a time of 52.30 seconds at the 2021 Big Ten Championships. Graves, meanwhile, swam the second-best time in school history in the 1,650 free at Big Tens, posting a time of 16:21.34 – her NCAA qualifying time.
"It is an honor to represent this team and advance to the next level, especially with the circumstances we had had to overcome this season," said Graves. "I was overjoyed when I found out the news that my teammates and I qualified for this meet. Freshman year has given me some challenges that my team and I have stuck together to overcome."
Jump is gratified to advanced to the premier meet during a year when so many curve balls were thrown at her and the Hawkeyes.
"This year has been the most untraditional year I have ever had in my years of swimming," said Jump. "We still got some solid training, but it was not the same. We went through so many emotional things this season, which showed me how strong I am mentally."
The 200 IM will be contested on March 18, the 100 fly will take place on March 19, and the 1,650 free and 200 fly will occur on March 20 at the Greensboro Aquatic Center.