March 19, 2012
IOWA CITY, Iowa – Random thoughts from the Heartland after a few days away from the Heartland…
Spring has sprung unexpectedly here in the Heartland – and elsewhere – after a winter that had no punch. Does it mean anything more than just an early start on yard work and our golf games? I haven't a clue or a guess or a prediction. I'm simply going to enjoy it because, as my friends and family know, I kind of enjoy yard work. Weird, I know, but true.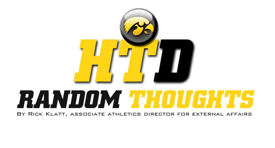 My guess is that I'm not alone being bummed that the current college basketball season for fans of the Hawkeyes is history. I enjoyed immensely the remarkable run by Bluder's Bunch sans Jamie Printy and the emotion-filled last few weeks for Fran's squad way too much to have it come to such an abrupt end. Now, having said, that, folks — even with the loss — doesn't it feel great to be "MAD" again?
Speaking of Fran, if you didn't catch his post-game comments with Bobby Hansen yesterday on the Hawkeye Radio Network, you missed another shining example of why the future of our men's basketball program is oh so bright. Fran rattled off a beautifully succinct analysis of the game and its outcome before turning his attention to the great sense of pride he has for the 2011-12 Hawkeyes as a group and then each of the seniors one by one. Fran then turned his attention to the incoming freshmen and what they bring to the program. Our head coached wrapped it up by suggesting that he can't wait to get on the I-Club circuit and talk about this team, this season, and the program before adding that he wished next year started tomorrow. Heck of a deal.
I'd also guess that I'm not only fan of the Hawkeyes wishing that Bryce Cartwright wouldn't have had the physical setbacks he did this season, particularly early. Iowa's senior point guard was nothing short of spectacular in the Hawkeyes' two NIT games: 11 assists and just two turnovers against Dayton and 12 points, 10 assists, four steals and just two giveaways yesterday.
As is our custom, the family traveled to a sunnier and warmer climate last week. And, as is always the case whenever and wherever we travel, a few "Go Hawks!" were in order. Seriously, you can't make a left turn or right turn anywhere on this globe anymore without being greeted by a Tigerhawk or the letters "IOWA" in black and gold on a t-shirt or sweatshirt. Good stuff.
Our vacation came with an added bonus: Some time spent with former roommate and UI all-American high jumper Bill Knoedel. Bill and his wife – Des Moines area residents these days — and their two sons were also enjoying some family time while escaping winter's not-so-vicious grip. The UI's recordholder in the high jump – Bill cleared 7-feet, 4-inches in 1974 and shares that mark with Bill Hansen, who cleared 7-4 four years later – looks no different than he did back – as he chuckled – when "Nike was handing out freebies and we all kind of laughed." Sure, like most of us, a little gray has found its way into his 'stache, but Bill is holding his own as evidenced by the fact that he recently competed in an Ironman event. What's an Ironman event you ask? Oh, that's just 2.4 miles in the water, followed by 112 miles on the bike, followed by a 26.2 mile run. Yes…Bill is holding his own very nicely!
Fran talked about 'em. Devyn talked about 'em. Gary and Bobby talked about 'em. The ESPN talent talked about 'em. So, I might as well weigh in on the 13,000-plus that gave the Hawkeyes the same kind of advantage last Tuesday night in Carver that the Ducks enjoyed yesterday in Eugene. I can honestly say I wasn't surprised to see a near-capacity crowd when I turned on ESPN for the game in my hotel room. The energy in Carver the last month of the season was the best it's been in years – thanks in great measure to some absolutely great play by the Hawkeyes against some of the Big Ten's best teams. So, the opportunity to cheer this group of Hawkeyes one more time was icing on the cake for those who are thrilled with what Fran and his staff have accomplished in two short years. Now, what was really impressive to me was the start-to-finish intensity of those 13,000. That, my friend, was very, very impressive and – again – triggered by some pretty outstanding basketball by the guys in black and gold.
Junior Matt McDonough rebounded to claim his second NCAA title in three years. The 125-pounder will look to become only the seventh Hawkeye in school history to win three championships next year when the world of college wrestling comes crashing down on Wells Fargo Arena in Des Moines. Tom Brands' squad will also be taking aim at Penn State's two-year reign as national champions…and, of course, that hard work started yesterday for Iowa's head coach, his staff, and the Hawkeyes.
Did you notice Iowa's basketball teams both lost to Pac-12 teams yesterday? I did. We'll need to remind ourselves of that little fact when the Big Ten and Pac-12 hoops teams start squaring off against each other per the announcement made by the two conferences in late December.
Go Hawks!