Free Admittance to Select Sports

MEMBERSHIP INFORMATION
Open to Hawkeye fans 12 years of age and younger.
Membership is $35 and runs annually from July 1 – June 30.
Membership Includes:
JHC Membership Pack: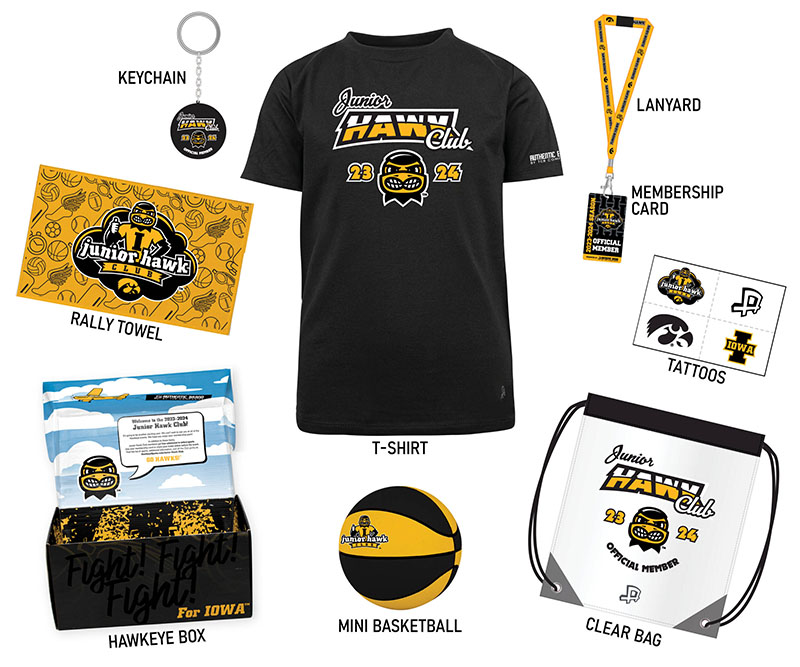 Exclusive Invites to Events
Special Offers on Authentic Brand Clothing
FREE Admission to the Following Home Regular Season Sporting Events:

Baseball
Select non-conference Men's Basketball games
Cross Country
Field Hockey
Golf
Gymnastics
Rowing
Soccer
Softball
Swimming & Diving
Tennis
Track & Field
Volleyball
Junior Hawk Club Boxes were designed, produced, and kitted by TCB Companies. With TCB Companies' full suite of made-to-order capabilities, you too can create custom boxes for your own personal network! Turn these unique boxes into thoughtful corporate gifts for your company's employees, clients, business partners, and more.
Interested in learning how? Get in contact with Authentic Brand by TCB Companies: (515) 465-4693 or info@tcbcorp.com.

At-Home Activities
Coloring Pages