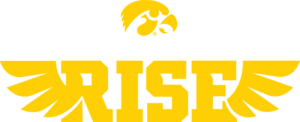 Support Women's Athletics
From a field hockey national championship to the first Power 5 school to offer women's wrestling, the University of Iowa is at the forefront of both excellence and equity.
To support and empower the next generation of female student-athletes at Iowa, we're embarking on a campaign to invest in world-class facilities and provide additional resources for women's athletics teams.
Hawkeye Women: RISE

campaign will transform the student-athlete experience for future generations as we seek to:
Build a new Women's Gymnastics Training and Spirit Squads Practice Facility
Construct a Field Hockey Operations Center at Grant Field
Support our fourteen women's sports by creating endowed scholarships or named coaching positions, providing funds for international travel, giving to sport-specific development funds, and other ways to grow our women's teams.