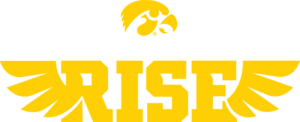 Few programs can match Iowa Field Hockey's tradition of excellence. 
From 16 B1G Conference titles to 12 NCAA Final Four appearances, Field Hockey has established itself as one of the preeminent programs in the sport. While our student-athletes continue to have resounding success on the pitch — including four straight Elite Eight trips — they lack the top-notch facilities that some of our competitors in the ACC and B1G have built.
To continue to recruit and retain top student-athletes, as well as compete for future championships, plans are underway to build an operations facility on the north side of Grant Field. This facility will provide a home for Iowa Field Hockey.
Team Locker Room
Athletic Training Room
Theater-style Film Room
Team Study and Meal Spaces
Coaches Offices and Conference Room
"During my nearly 30 years here in Iowa City as a student-athlete and coach, I've been fortunate to be part of so many memorable moments. I'm proud of what we've accomplished, but to continue to compete against the best programs in the sport, we need to a build a home at Grant Field. This new facility will be a game changer for our team and will help us continue to attract the best student-athletes from around the globe."
– Head Field Hockey Coach Lisa Cellucci (98BA)