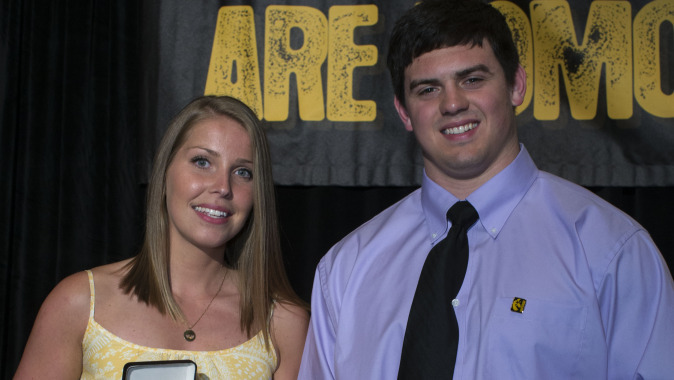 May 15, 2014
IOWA CITY, Iowa — University of Iowa senior student-athletes James Morris (football) and Marike Stribos (field hockey) have been chosen as Iowa's honorees for postgraduate scholarships awarded by the Big Ten Conference.
One male and one female student-athlete from each of the 12 Big Ten institutions, who plan to continue their education at a graduate degree program, are awarded a $7,500 scholarship, based on primarily academic achievements.
Morris, from Solon, Iowa, recently completed his playing career as the Hawkeyes concluded the 2013 season with an 8-5 overall record following their appearance in the 2014 Outback Bowl. He moved into Iowa's starting lineup early in his freshman season and started 42 career games. Morris totaled 400 career tackles, ranking sixth on Iowa's career chart. Morris ranked second on the team with 107 tackles in 2013. He earned second team All-Big Ten honors and was the Iowa recipient of the Big Ten Sportsmanship Award. Morris led the Hawkeyes in sacks (8), tackles for loss (18) and interceptions (4), becoming the first linebacker to lead Iowa in interceptions since the stat was first kept in 1986.
A political science major with a 3.87 grade point average, Morris was named Iowa's male Big Ten Medal of Honor at last month's UI's academic and athletic achievement banquet. He was named to the 2014 Capital One Academic All-America first team. Morris also earned a $7,500 NCAA Postgraduate Scholarship and was named a National Football Foundation Scholar-Athlete. A three-time Academic All-Big Ten honoree, Morris was one of four finalists for the Lott Trophy and one of 12 finalists for the Wuerffel Trophy.
Stribos, who hails from Brussels, Belgium, played in 79 career games, with 76 career starts during her Hawkeye career. She posted 13 goals and 42 points as a midfielder/back. Stribos earned Academic All-Big Ten laurels in all three years that she was eligible and has twice earned the Big Ten Conference Distinguished Scholar Award. A four-time NFHCA National Academic Squad member, she earned NFHCA First Team West Region All-America honors and was a second team All-Big Ten selection as a junior. Stribos was named Iowa's female Big Ten Medal of Honor at last month's UI's academic and athletic achievement banquet. She is a double major in finance and management with a 3.89 grade point average.
Each Big Ten institution developed its own on-campus selection process when awarding the scholarship. Student-athletes must have been in their final season of NCAA eligibility, maintained at least a 3.2 grade-point-average, demonstrated leadership qualities, served as an excellent role model and intended to continue their academic work beyond their baccalaureate degree at a graduate degree program.
The scholarship will be used to pay expenses of the student's postgraduate education to include such related activities as research and teaching, as well as other expenses such as tuition, fees, room and board, required course-related supplies and books. In order to retain the scholarship, the recipient must be accepted into a full-time graduate degree program within three years from the fall semester after selection.