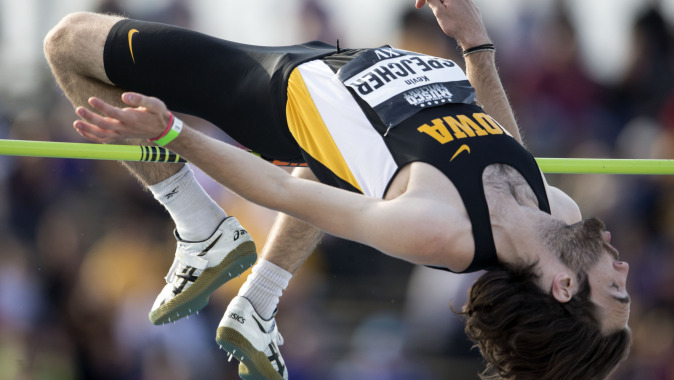 May 16, 2014
Editor's Note: The following first appeared in the University of Iowa's Hawk Talk Daily, an e-newsletter that offers a daily look at the Iowa Hawkeyes, delivered free each morning to thousands of fans of the Hawkeyes worldwide.
By CHRIS BREWER
hawkeyesports.com
IOWA CITY, Iowa — The balance has shifted entering this week's Big Ten Championships. The track is out and the field is in.
A year ago at the conference championships, the University of Iowa men's track and field team won six medals in sprint events, including four gold and two silvers. Unfortunately each of those medals graduated, and this week the Hawkeyes enter the 2014 postseason leaning on events outside the oval.
"The field events have become a great part of our program recently," said UI assistant coach Scott Cappos, "and because of that development we've given ourselves a chance to consistently perform as one of the better teams in the conference."
Six Hawkeyes are seeded fifth or better at the 2014 Big Ten Outdoor Track and Field Championships, and all six are in field events.
"The field events have a lot of talent," said freshman O'Shea Wilson, who is seeded No. 2 in the long jump. "Any one of us can place in the top three at Big Tens, and that's what we need to do."
Other Hawkeyes seeded fifth or better include Babatunde Amosu and Klyvens Delaunay in the triple jump, Gabe Hull in the discus, Jack Eckert in the decathlon, and Kevin Spejcher in the high jump.
Spejcher and Amosu didn't score at the Big Ten meet a year ago. Spejcher placed 15th overall, and Amosu missed the competition completely due to injury. Since then Spejcher has added five inches to his PR, and Amosu has won a Big Ten indoor title. Both are seeded No. 2 this weekend in their respective events.
Delaunay placed sixth at last year's outdoor championships and third at the 2014 indoor championships. He was an indoor All-American and is seeded third this week.
Eckert was left outside the top 15 a year ago, but he has hit four PRs this season and enters the championship field seeded fifth.
Hull is a Big Ten veteran. He placed fifth in discus in 2012 and third in 2013. Since last year's Big Ten Championships, he has added 18 inches to his discus and shattered the school record with a mark of 207 feet, 1 inch. He has set a PR in each of his last two meets — including the Drake Relays and Musco XV — and he enters the championships seeded No. 2.
"Gabe is going to do a lot of damage at the Big Ten Championships, but he is also going to have his hands full," said Cappos. "He is in one of the toughest events in the country. He could have a great day and get fourth, or he can have a great day and get first. It's that tight."
The Hawkeyes have placed fifth or better in each of the last four years, but Cappos said there is little room for error if Iowa wants to continue challenging the upper half of the conference.
"In the field events we have to be able to do what we have on paper," said Cappos. 'If Gabe is ranked second, and he gets first, second or third, that's still good for the team. But if he falls to seventh, that's trouble. We'll need everyone to step up if we're going to have the kind of meet we're capable of."
The 2014 Big Ten Track and Field Championships begin Friday at 11 a.m. (CT) at the Rankin Track and Field in West Lafayette, Indiana. The Big Ten Network will debut a tape-delay broadcast of the event Sunday, May 25, at 5 p.m.