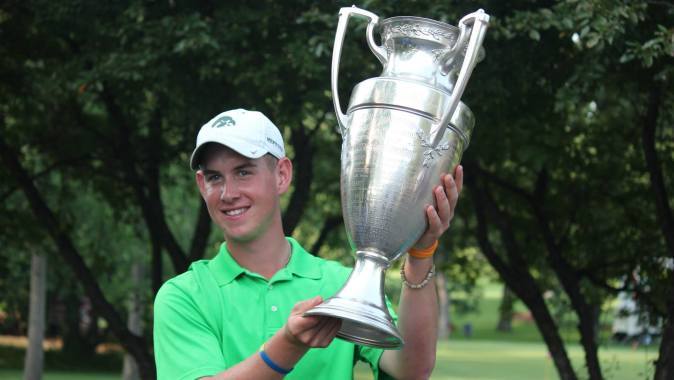 July 18, 2014
IOWA CITY, Iowa — University of Iowa sophomore Raymond Knoll captured the 84th Illinois State Amateur Championship Thursday at Cantigny Golf in Wheaton, Illinois, in dramatic fashion.
The Naperville, Illinois, native defeated University of Illinois freshman Nick Hardy on the fourth playoff hole to take the title following 72 holes of play. Both golfers finished with eight-under-par totals of 280. Auburn University senior Dan Stringfellow finished third with a three-under-par 282.
"It was great to come here this week to Cantigny and win," said Knoll. "It is where I grew up, it is what I know and where I practice, and I felt really comfortable."
Knoll, ranked first in the 2014 Illinois Player of the Year rankings, opened the week with a 75 on Tuesday, but put together five-straight birdies on Wednesday for a second round 67. The 2014 PING All-Region honoree tallied eight birdies on Thursday morning for a third-round 67 before carding a 71 in the final round.
It has been quite the month for the 18-year-old. Knoll made his PGA TOUR debut at last week's John Deere Classic after qualifying at the John Deere Classic Open Qualifier on July 7. He fired a seven-under-par 65 at Pinnacle Country Club in Milan, Illinois, to tie Armando Villarreal of Dallas, Texas, to earn one of four qualifying spots. He finished +3 at the John Deere Classic (74, 71).
"It was a hectic week (after the John Deere Classic and U.S. Amateur qualifying) and Tuesday I started pretty slow, but I was able to regroup and finish really well," said Knoll.
Knoll, who claimed the Pine Hills Invitational in early June of this year, continues action next week with the Illinois Open Championship and a week later at the Western Amateur Championship. On Monday, he earned an alternate spot for the U.S. Amateur Championship.
Knoll registered his best finish of the season at the Boilermaker Invitational, where he tied for sixth (215, +4). In his final round of play at the event, Knoll carded a 66 (-6), which equaled the fourth-lowest round in program history, as Iowa rallied to earn the team title. He tied for 12th at the Big Ten Championships (300, +12), placed 15th at the Hawkeye-GRE Invitational (220, +4), and tied for 26th at the NCAA Columbia Regional (216, E).
Knoll helped lead Iowa to its sixth-straight NCAA Regional appearance this past season. Iowa is 1-of-3 Big Ten teams to appear in six-straight NCAA Regionals (Illinois and Northwestern).