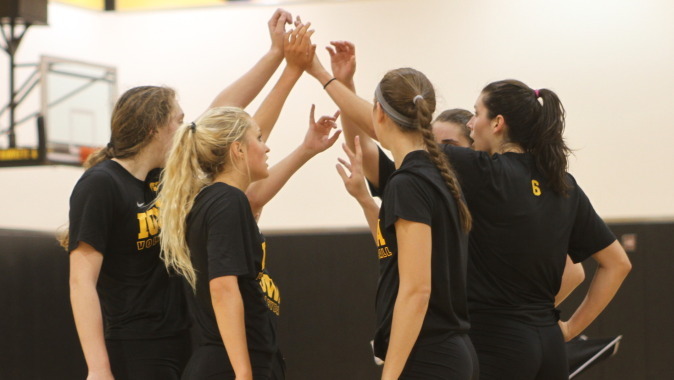 Aug. 16, 2014
Editor's Note: The following first appeared in the University of Iowa's Hawk Talk Daily, an e-newsletter that offers a daily look at the Iowa Hawkeyes, delivered free each morning to thousands of fans of the Hawkeyes worldwide.
By JIL PRICE
hawkeyesports.com
IOWA CITY, Iowa — The University of Iowa volleyball program has been focused on one moniker since the arrival of head coach Bond Shymansky and his staff in January. Whether student-athletes are on the court, training in the weight room or in the classroom, the Hawkeyes want to be #GreatToday.
A shift in a program can be challenging, but striving to reach greatness in each area with exceptional effort has been helpful for the group who must learn to thrive under new leadership in a new offense.
"We're asking them to adapt to a new system in a different style of play than they have in the past," Shymansky said. "The returners have been working on that since last spring. There are still some details that we'll keep implementing and changing. For the new players, it's a lot of information to take in and a tempo change from the styles they've been accustomed to. The growing and learning process is actually fun. It's the part of our job that feels like teaching.
"Watching a player go from not being able to do a certain technique to being able to do it well and ultimately master it, is rewarding. When you're able to get a lot of individual players that can master a lot of individual techniques, that's how you form a team. Then you can all play together. We're still in phase one right now, just the instructional part and being technically sound, but we'll quickly come together as a group that competes to win."
That process began in full force Aug. 9 at the team's first practice of the 2014 season. Shymansky has been pleased with the effort and growth of each student-athlete, and is excited for the challenge of setting a starting line-up.
"The first week of practice has been good," Shymansky said. "It has been progressing to more challenging six-on-six play. We've had a lot of players emerging as potential starters and that's been rewarding to see as a coaching staff. It shows us that people have been working hard on their own over the summer to develop their game. We have a good problem to solve and that is figuring out how to utilize so many talented players, when there can only be six on the court at a time. We're eager to keep improving our overall play and get our starting line-up set within the next week of preseason."
"So far we're doing really well," senior outside hitter Alex Lovell said. "It's always tough to adjust to something new, but we've come a long way since last spring when the new system was implemented. Now, in preseason, we're showing what we can do in our new, fast-paced offense."
The Hawkeyes have two more weeks to prepare for their season-opening tournament at Texas A&M on Aug. 29-30, but will have an opportunity to showcase their skills and the new playing system for fans at the annual Black and Gold Scrimmage at 3 p.m. (CT) on Aug. 23 at Carver-Hawkeye Arena. Admission is free.
"The scrimmage will be a good look at the competitive character and energy that our team will play with," Shymansky said. "There are a lot of new faces, including our staff and six new players. The people that come to watch are very excited in the direction we're headed, just like the people on the team. We expect to see the same look on their faces that will be on ours, which is excitement, passion, energy, and hope for the future of the Iowa volleyball program."