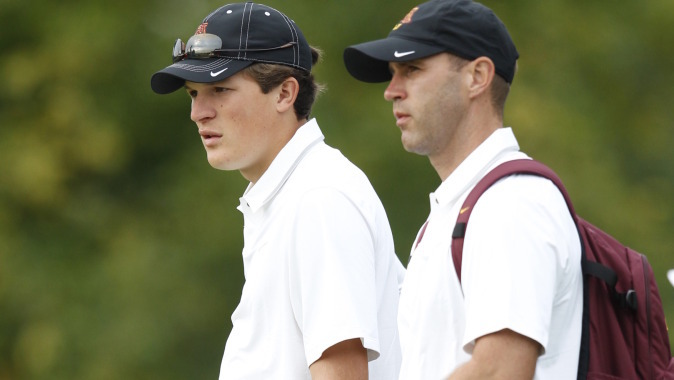 Aug. 22, 2014
IOWA CITY, Iowa — Tyler Stith has been named head men's golf coach at the University of Iowa, UI Director of Athletics Gary Barta announced Friday. Stith, a former assistant coach and student-athlete at Iowa, has served as assistant coach at Minnesota the last three years.
"I want to thank director of athletics Gary Barta, associate athletics director Mark Jennings, assistant to the director Mark Hankins, and all members of the search committee for trusting me with the responsibility to lead this program," said Stith. "Mark Hankins built a program that is among the best in the Big Ten and respected throughout collegiate golf. We will work diligently to build on the foundation in place and do it the right way."
"The University of Iowa is a special place to my family and me. My wife, Elizabeth, and I are very proud to return to our alma mater. It's an honor to wear black and gold again," said Stith. "I am very grateful to coach John Carlson and director of athletics Norwood Teague for the opportunity they gave me at Minnesota.
"Tyler is well prepared to lead the Hawkeyes," said Barta. "He knows Iowa, he knows the Big Ten, and he's already experienced tremendous success during his career. I look forward to his return to Iowa City."
With Stith on the Minnesota staff, the Gophers won the 2014 Big Ten title, their first team conference crown since 2007. Jose Mendez captured medalist honors to become Minnesota's first individual Big Ten champion since 2003. The Gophers went on to finish ninth at the NCAA Raleigh Regional, their first regional appearance since 2009. Minnesota won four tournaments during the 2013-14 season, marking the program's first victories since 2006-07.
In Stith's three seasons in Minneapolis, the Gophers' national ranking climbed from No. 104 to No. 68. The Gophers also improved in the classroom, earning GCAA All-Academic Team recognition during all three seasons (2012-14) and the Gopher Athletics' Norman Borlaug Commitment to Academic Excellence Award in 2014.
Stith served as an assistant coach to Hankins for three-and-a-half seasons at Iowa prior to joining the Minnesota staff. During that time, the Hawkeyes' national ranking improved from No. 155 to No. 9. Iowa recorded a school-record 10th-place finish at the 2011 NCAA Championships, eclipsing a previous program-best 17th place finish at the 2009 NCAA Championships. He was named a semifinalist for the Jan Strickland Award in 2011, an honor given to the top assistant in NCAA golf.
As a Hawkeye, Stith was a four-year letterwinner and a team captain during his senior season. The Mount Pleasant, Iowa, native graduated with a Bachelor of Arts degree in management information systems in 2002.
Stith takes over a program that advanced to NCAA competition in each of the last six seasons, joining Illinois and Northwestern as the only Big Ten teams selected to NCAA Regional competition in each of the last six seasons. Iowa has advanced to the NCAA Championship finals three times in the last six years.