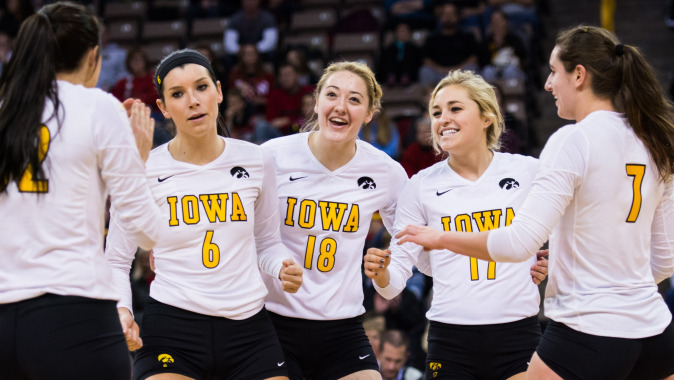 Aug. 23, 2014
IOWA CITY, Iowa — Members of the University of Iowa volleyball program made their debut for fans on Mediacom Court in Carver-Hawkeye Arena Saturday afternoon at the annual Black and Gold Scrimmage.
First-year head coach Bond Shymansky greeted the crowd and went over the format with the fans. The Hawkeyes started with drills and their pre-match routine. From there, the squad split in two to compete in two 25-point sets and one 15-point set.
Following the scrimmage, student-athletes signed autographs with Hawkeye fans in attendance.
Shymansky was pleased with the effort of the team and the support of the crowd. "I thought we looked game-ready today," Shymansky said. "You could tell we were bouncy. We loved having the home atmosphere of Carver-Hawkeye Arena come to life with so many fans showing up.
"I liked the energy we started out the match with and that we have so many people that are contributing. We still have a lot to figure out, but that's what the preseason is for. We want to really dial in our line-ups so we can be as competitive as possible going into Big Ten play."
UI volleyball opens the 2014 season at the Texas A&M Tournament on Aug. 28-29. The Hawkeyes take on the Aggies at 10 a.m. (CT) and UT-San Antonio at 7:30 p.m. on Friday and close the tournament with a 12:30 p.m. match against Tulane on Saturday.
All matches at the tournament will be broadcast on SEC Network +, available only on WatchESPN through participating television providers. To access live scoring links, match results and box scores, visit the Tournament Central page at 12thman.com.