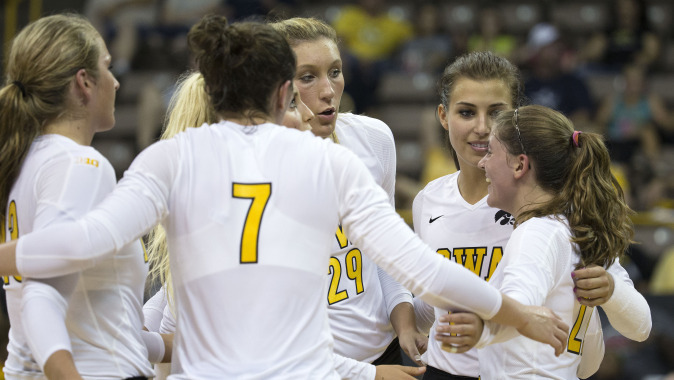 Aug. 25, 2014
IOWA CITY, Iowa — The University of Iowa volleyball team competes live on the Big Ten Network (BTN) once and BTN Plus 13 times this season.
The Hawkeyes' match against Illinois on Oct. 15 in Iowa City will be televised live on BTN. First serve has been changed from 7 p.m. (CT) to 8 p.m. to accommodate the schedule of the network.
Thirteen Iowa matches will be shown via live stream online through BTN Plus. To see if your cable package gives you access to BTN Plus content, sign up for BTN Plus or learn more about it, visit btn2go.com.
A full listing of Iowa volleyball television and online coverage is listed below and available online at hawkeyesports.com.
Iowa Volleyball BTN/BTN Plus Schedule
Sept. 24 at 7 p.m. (CT) – Iowa at Nebraska (BTN Plus)
Oct. 3 at 7 p.m. (CT) – Ohio State at Iowa (BTN Plus)
Oct. 4 at 7 p.m. (CT) – Penn State at Iowa (BTN Plus)
Oct. 15 at 8 p.m. (CT) – Illinois at Iowa (BTN)
Oct. 22 at 7 p.m. (CT) – Iowa at Wisconsin (BTN Plus)
Oct. 25 at 7 p.m. (CT) – Iowa at Minnesota (BTN Plus)
Oct. 31 at 6 p.m. (CT) – Iowa at Maryland (BTN Plus)
Nov. 5 at 7 p.m. (CT) – Indiana at Iowa (BTN Plus)
Nov. 8 at 7 p.m. (CT) – Purdue at Iowa (BTN Plus)
Nov. 12 at 6 p.m. (CT) – Iowa at Penn State (BTN Plus)
Nov. 15 at 7 p.m. (CT) – Wisconsin at Iowa (BTN Plus)
Nov. 22 at 7 p.m. (CT) – Iowa at Northwestern (BTN Plus)
Nov. 26 at 4 p.m. (CT) – Maryland at Iowa (BTN Plus)
Nov. 28 at 7:30 p.m. (CT) – Michigan State at Iowa (BTN Plus)