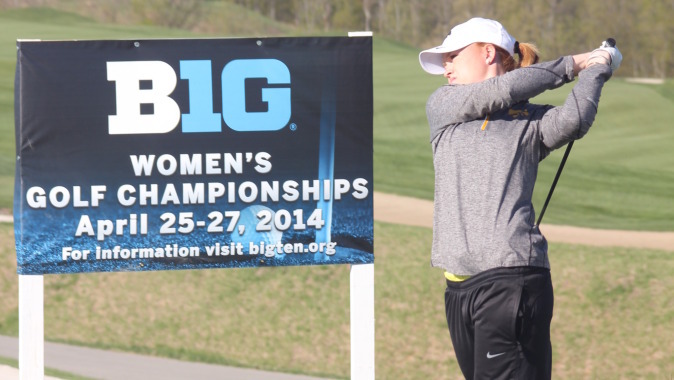 Aug. 27, 2014
IOWA CITY, Iowa — University of Iowa head women's golf coach Megan Menzel announced the team's 2014-15 schedule Wednesday, featuring a home event in Iowa City at Finkbine Golf Course, Oct 4-5.
"Our schedule is very exciting this year," said Menzel. "Not only have we added some quality competition, but we have also added some great destinations. We look forward to taking care of business at each stop along the way and getting to compete on some great golf courses.
"Our fall schedule looks a little different this year and our team is looking forward to the match play format at the East/West Challenge in Ann Arbor. The addition of Puerto Rico certainly created some great excitement for our team, and we are looking forward to that trip."
The Hawkeyes open their season in East Lansing, Michigan, at the Mary Fossum Invitational on Sept. 13-14. The following week, Iowa takes part in the three-day East/West MatchPlay Challenge in Ann Arbor, Michigan, on Sept. 20-22 before returning home to host the Diane Thomason Invitational on Oct. 4-5. The Hawkeyes placed sixth in last year's event.
Thomason coached the women's golf team from 1975-2002. She coached seven All-Big Ten selections and led the Hawkeyes to their first Big Ten title in 1991. Her coaching honors include 1990 and 1991 Big Ten Coach of the Year, 1990 National Golf Coaches Association Coach of the Year, and 1985 LPGA National Coach of the Year. She was inducted into the National Golf Coaches Associations Hall of Fame in 1995, and continues to lead the USA World University Championships teams, a position she assumed in 1986.
Iowa travels to Starkville, Mississippi, to continue action in the Old Waverly Bulldog Invitational on Oct. 20-22 before heading to Boerne, Texas, to play in the Jim West Invitational on Nov. 2-4 to close out its fall schedule.
The Hawkeyes open their spring slate in Puerto Rico, where they will go head-to-head with Purdue on Feb. 15-17. Iowa then heads to Peoria, Arizona, on Feb. 22-23 where it will play in the Westbrook Spring Invitational, hosted by Wisconsin.
The Hawkeyes fired an 877 (+13) to establish a new 54-hole school record at last year's Westbrook Invitational. The team's 36-hole score of 585 is good for third overall in program history, and its 18-hole score of 291 ties for fifth. Shelby Phillips paced the Hawkeyes at the Westbrook Invitational. The Arizona native carded a three-round total of 216 in her home state to tie for 14th place in the tournament to register her third top-20 finish of the year. Phillips' score ranks third among Iowa's all-time best performances.
Iowa's first event in the month of March is the BYU Entrada Classic in St. George, Utah, on the 16th and 17th. Three days later, the Hawkeyes head to Tucson, Arizona, to play in the Mountain View Collegiate (March 20-21).
Iowa closes out the spring schedule at the Lady Buckeye Invitational in Columbus, Ohio, on April 18-19. The 2015 Big Ten Championships will be held in Indianapolis from April 24-26.