Box Score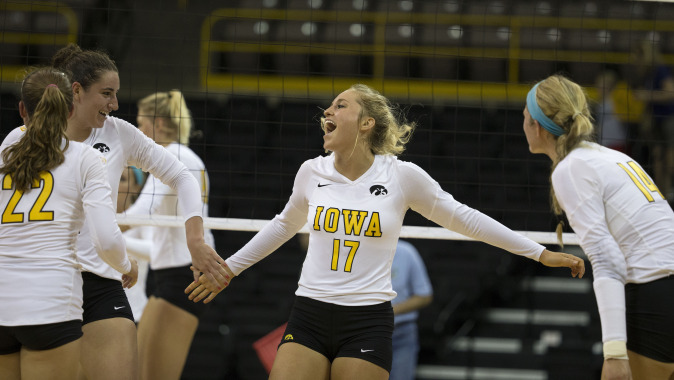 Aug. 30, 2014
COLLEGE STATION, Texas — The University of Iowa volleyball program concluded Texas A&M Invitational play with a sweep of Tulane (0-3) Saturday afternoon. The Hawkeyes out-hit (.225 to .120) and out-blocked (14.5 to 9) the Green Wave in their first three-set victory of the year.
"This was a much more assertive effort by our entire team and it's great when we can get contributions from our whole line-up for a 3-0 victory," head coach Bond Shymansky said. "Our group is improving in the little details and improving on having a stronger attitude all the way through the entire match to get a decisive win. That's something we need to learn how to do better. We need to be able to flex our muscles when we have our opponent down."
Jess Janota and Alex Lovell were named to the all-tournament team following the match.
"(Jess) Janota and (Alex) Lovell getting all-tournament team is great and good recognition for their efforts and performances over the weekend," Shymansky said. "I thought they had a great cast of supporting characters that helped them be successful all the way through."
Iowa set the tone for the match with a dominant performance in set one. The squad posted an attack percentage of .300, while holding their opponents to a .077 percentage. Alessandra Dietz posted four kills and hit .800 to pace the Hawkeyes, followed by Janota and Taylin Alm who notched three kills apiece. A five-point run, propelled by an Alyssa Klostermann service ace, block assists by Erin Leppek and Alessandra Dietz and a Lauren Brobst kill, solidified Iowa's set one win, 25-13.
The Hawkeyes continued to control the second set, outscoring the Green Wave 12 to four for an early lead. Kills by Lovell (three), Dietz (two), Brobst (1), Alm (1) and Mikaela Gunderson (1) and blocks assists from Alm and Gunderson and Lovell and Gunderson fueled the scoring effort. Tulane attempted to close the gap, but Iowa held its lead with a late five-point push and went on to win the second set by a score of 25-20 on a Dietz kill.
The Hawkeyes jumped ahead of the Green Wave with a 7-2 start in the third set and never looked back en route to their 25-20 set victory. Iowa had plenty of hitters contribute in the final set, drawing three kills from Lovell and Gunderson and two from Dietz, Janota and Danielle Cabel.
Lovell paced the Iowa offense with 10 kills, followed by Dietz with nine kills and a team-best .471 hitting percentage. Klostermann dished out a team-high 18 assists, Michelle Fugarino posted a team-high 19 digs and Gunderson led the blocking effort with seven.
The Hawkeyes are back in action at the Arizona State Tournament on Sept. 6-7. Iowa is set to take on UAB and Idaho State on Saturday and the host Sun Devils on Sunday.
| | | | |
| --- | --- | --- | --- |
| Iowa vs. Tulane | 1st | 2nd | 3rd |
| Iowa (2-1) | 25 | 25 | 25 |
| Tulane (0-3) | 13 | 20 | 20 |
Statistical Leaders
Kills: Lovell (IOWA) 10 | Ray (TUL) 15
Assists: Klostermann (IOWA) 18 | Etta (TUL) 27
Digs: Fugarino (IOWA) 19 | Weaver (TUL) 16