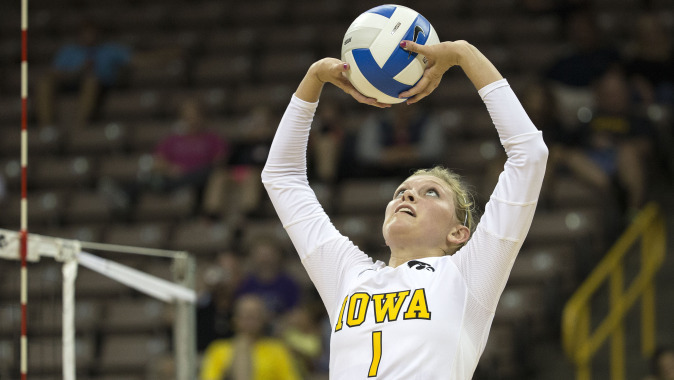 Sept. 3, 2014
Editor's Note: The following first appeared in the University of Iowa's Hawk Talk Daily, an e-newsletter that offers a daily look at the Iowa Hawkeyes, delivered free each morning to thousands of fans of the Hawkeyes worldwide.
By JIL PRICE
hawkeyesports.com
IOWA CITY, Iowa — Every newcomer on the University of Iowa volleyball team saw time on the court during the season-opening weekend at the Texas A&M Invitational. Their contributions helped guide the Hawkeyes (2-1) to wins over UTSA and Tulane.
"The young players in the line-up are playing like starters and contributing in ways any starter should want to contribute," said UI head coach Bond Shymansky. "I've never been interested in who is a senior and who is a freshman; we're just constantly trying to figure out who is the best player in each position and who are the best six together as a group. Some of the new players have already added some significant contributions to our success."
Freshman right side hitter Jess Janota started the season on a high note, leading Iowa with 11 kills and a .308 hitting percentage against Texas A&M. She notched her second-straight double-digit kill performance with 12 against UTSA and concluded the weekend with six kills and a .250 hitting percentage against Tulane. She, along with senior Alex Lovell, were named to the all-tournament team.
"Jess needs to continue to get pushed," Shymansky said. "The further we go, the more likely it is that teams will focus in on her and she's going to have to respond. She'll go from being a nobody to a somebody really fast as she stays on this performance curve."
Mikaela Gunderson, a junior middle blocker, excelled as a blocker, as she paces the Big Ten in blocks per set (1.90) after week one.
"You see her speed and athleticism in the middle get showcased," Shymansky said. "The blocking part is the hard work she puts in with that speed and athleticism. She's getting into position to block and working hard to do it. She has the right mentality for it — she wants to end the point at the net both as a hitter and a blocker and that's what you want out of a middle."
Freshman Michelle Fugarino anchored the back line as Iowa's libero. After underperforming in the opening match, she recovered to lead the Hawkeyes in digs, posting 26 against UTSA and 19 against Tulane.
"Michelle made steady improvement," Shymansky said. "She's going to need to continue to improve to anchor us as our libero with passing and defense. I saw her shake off early nerves, keep her head down and keep bulling forward. She needs to be the one that instills the mentality, effort, and competitive character of our defensive identity."
Freshman Kaylee Smith is one of two setters who runs the team's 6-2 offense, along with sophomore Alyssa Klostermann. Smith dished out a team-high 28 assists in Iowa's first win over UTSA. Freshmen Taylin Alm and Danielle Cabel also subbed in for the Hawkeyes during the weekend.
"Kaylee is doing a great job of running half the offensive show with Klostermann," said Shymansky. "She's learning a lot as she goes and there is a steep learning curve at the Division I level. Both Taylin and her, I see them both making improvements. I see them getting more comfortable and confident.
"They're going to need to grow from being a role player to being a dominator at whatever it is that they are doing."
Although they made strides during the opening weekend, the newcomers are not satisfied with their performances and all have goals to improve at a steady rate and win throughout the season.
"I want to be better than what I was last weekend," Smith said. "I want to keep improving and be the best I can be. I want to help us win in the Big Ten and get to 20 wins on the season, which is our goal as a team."
Iowa is back in action at the Residence Inn Challenge on Sept. 6-7. The Hawkeyes take on UAB and Idaho State on Saturday, and conclude tournament play with a match against host Arizona State on Sunday.