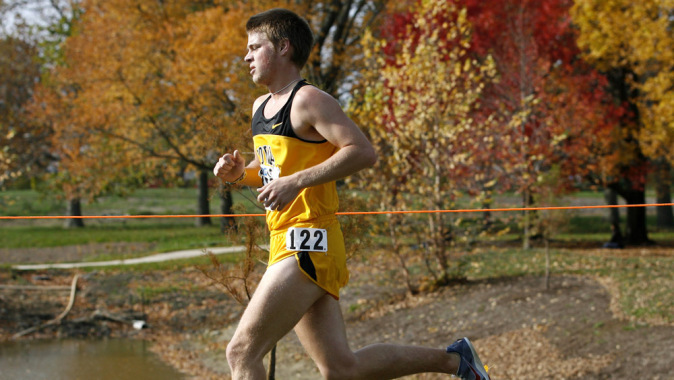 Sept. 8, 2014
Editor's Note: The following first appeared in the University of Iowa's Hawk Talk Daily, an e-newsletter that offers a daily look at the Iowa Hawkeyes, delivered free each morning to thousands of fans of the Hawkeyes worldwide.
By Jordan Bucher
hawkeyesports.com
IOWA CITY, Iowa — For Jon Michael Brandt, running is a way of life. The former Hawkeye cross country runner has taken on a new role this season alongside UI head cross country coach Layne Anderson. After retiring the black and gold uniform in 2014, Brandt jumped at the opportunity to become a volunteer assistant coach for his alma mater.
"I like what running offers people, where it can take them, and what it can do for their lives," Brandt said. "It really made me think about what I wanted to do with my life. I don't want to be stuck in an office all day; I want to be working with people, and coaching seemed to nicely tie in with what my interests are."
Instead of pursuing a career in therapeutic recreation, Brandt's hidden passion for coaching was spawned last season. He was expected to be a front-runner for the Hawkeyes in 2013, but an injury forced him from the course and made him reconsider his future as a runner. So when Anderson presented the chance to join the cross country staff, Brandt said the decision was a no-brainer.
"I decided I couldn't give it up. I realized I can still be a part of running even when I can't run," Brandt said. "The opportunity arose for me to stay here in Iowa and I was privileged enough to be asked by Coach Woody and Coach Anderson to help out. It's a great chance to learn from some of the best coaches in the country."
"He wants to get into coaching as his long term professional goal so this is an opportunity for him to get in on the ground floor," Anderson said. "My responsibility to him as a young coach is to help him develop his own coaching philosophy. I'll share my ideas and talk about training and allow him to verbalize his thoughts and not make it a one-sided conversation."
In addition to learning the ropes of coaching, Brandt will help fill the shoes of former coach Larry Wieczorek, who retired last season after his 26th year as the head coach for the men's cross country team. Brandt and Wieczorek built up a special relationship that was fostered by the adversity his senior year.
"Wiz was a counselor for me last year. We experienced several highs and lows in the process to get healthy," Brandt said. "One of the things I've learned is that there is always a great coach that influences you at some point. Wiz was one of those people because he truly cared about the athletes and not just the performances on paper."
While competing under Wieczorek's guidance, Brandt made the conference and regional team as a sophomore. The following year, he led the team in 3-of-6 races. During the indoor track season, he won the 3,000-meter race at the Adidas Classic in Lincoln, Nebraska and placed 15th in the 10,000-meters at the 2013 Big Ten Outdoor Championships.
Although Brandt's former teammates welcome his transition from athlete to coach, it has nevertheless created a paradox for the team.
"It's a different experience. The older guys on the team have to respect the different boundaries that we have now," said senior Ben Witt. "He was really close to Coach Wiz and brings back all the wisdom that used to be here from him, but with a younger flare."
Anderson, who is preforming double duty as the men's and women's head coach this season, considers Brandt a valuable asset to the team.
"This is his alma mater. It was appealing to have him join the staff as opposed to someone on the outside. He knows Iowa. He knows the guys. He knows the girls. He'll be able to help in a variety of ways."