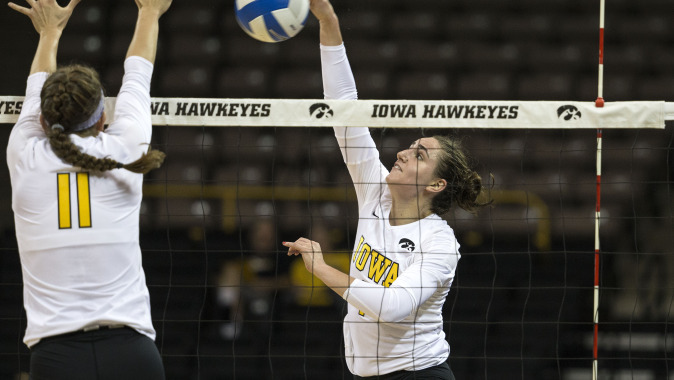 Sept. 10, 2014
Outside hitter Alex Lovell is a three-year starter for the University of Iowa volleyball team. The Leonard, Michigan, native entered her senior season ranked 14th in school history with 1,099 career kills. She has led the Hawkeyes in kills in each of her first three seasons.
Q: How does a player from Michigan wind up in Iowa City?
A: I was always interested in the pharmacy program. I knew Iowa had a good pharmacy program, and I wanted to play volleyball at a competitive level, and as we all know, the Big Ten is the most competitive conference in the country.
Q: You've played a lot of volleyball in your first three seasons, how will those experiences help you during your senior season?
A: The experience means a lot to a player, it teaches you how to react if a play doesn't go your way and teaches you how to react and celebrate with other players when something does go your way.
Q: What's the biggest thing you have learned about yourself in your first three seasons as a Hawkeye?
A: I've learned the most about how I react to plays and how I react to failure when I mess up. It's something I've developed over the years and have grown to not let that feeling of failure seep into others on the court.
Q: How has the acclimation process been with Bond Schymansky taking over as the program's new head coach?
A: It has been a process is the best way to describe it as we are going from spring to the preseason. We've learned a lot and implemented a new offense, defense, and technique. There have been a lot of technical changes, but the overall atmosphere change has been the biggest difference.
Q: What are you most looking forward to this year?
A: It's bittersweet going into this last season as a senior, but what I'm looking forward to most is climbing that Big Ten ladder and beating some of those teams that we couldn't in the past.
Q: What has been the best moment of your career as a Hawkeye?
A: Our win at Purdue, when we beat a No. 12 team in their gym. This year we'll have a lot more of those moments, so I'm looking forward to that.
Q: Big Ten conference has some of the top teams in the country. What's it like going into those matches knowing you're playing at such a high level every night?
A: I don't think it's good to focus on what another team is known as, but rather to focus on what you and the team can do.
Q: What's the best part of being an athlete at the University of Iowa?
A: Being a student-athlete has played a role in who I am and it gives you time management skills with a class schedule as well as an athletic schedule between practice and meetings. It teaches us how to manage our time, which is a good asset to have.
Q: What are some pregame rituals that Hawkeye fans don't already know about?
A: We blast music in the locker room, get in a big huddle, and run out onto the court.
Q: Who chooses the music, and what do you listen to?
A: Anyone chooses the music, and we mostly listen to rap, but everything from R&B to country.
Q: Do you have and hidden talents?
A: I can cook well. I make an excellent chicken and nachos pot pie.
Q: What would be the perfect ending to the Lovell senior script as a Hawkeye?
A: A perfect ending would have to be winning a national championship.