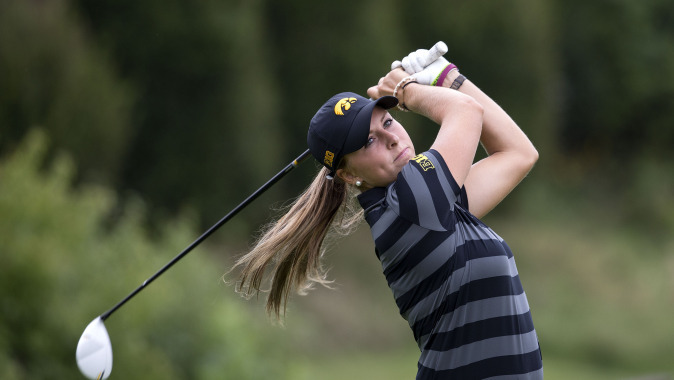 Sept. 14, 2014
Complete Results

EAST LANSING, Mich. — Junior Amy Ihm paced the University of Iowa women's golf team in the final round of the Mary Fossum Invitational on Sunday, carding a 74 (+2), as the Hawkeyes finished ninth in the 15-team field. Iowa carded a 54-hole team score of 951 (+87) in its season-opener after posting a 316 (+28) during the final round.
Ihm finished the tournament tied for 24th, posting a 235 (+19). She improved each round, posting an 83, 78, and 74.
"Managing the course was definitely something I executed well today. There were a lot of tricky pins, but staying patient and hitting the greens was key," said Ihm. "We are all looking forward to getting after it this week, working on our short game especially, and building up some confidence heading into match play."
Sophomore Jessie Sindlinger carded the best finish for Iowa, as she tied for 13th (235, +15). She posted rounds of 74, 79, and 78.
"As a team, we had a goal after the first day to move up and we ended up moving a couple places today," said Sindlinger. "This weekend was good to see what we need to work on going into next week and the rest of the season to play well."
Freshman Elisa Suarez finished the tournament with a 54-hole score of 241 (+25) in her collegiate debut, posting rounds of 81, 81 and 79. Suarez's efforts tied her for 48th. Fellow freshman Jessica Ip, also making her colligate debut, finished her weekend with a three-round score of 248 (+32). Ip tied for 68th, posting rounds of 80, 81, and 85.
Senior Nicole Rae sank two birdies on the third and 10th holes as she posted a final-round score of 85 (+13). Rae finished the tournament tied for 64th with a score 246 (+30; 80, 81, 85)
Senior Jessie Jordan, competing as an individual, posted a final-round 82 (+10). Jordan tallied a total score of 243 (+27) to finish 59th. She posted rounds of 84, 77, and 82.
Notre Dame won the event with a total of 913 (+49).
The Hawkeyes return to action, Sept. 20-22, in Ann Arbor, Michigan, in the East/West MatchPlay Challenge.